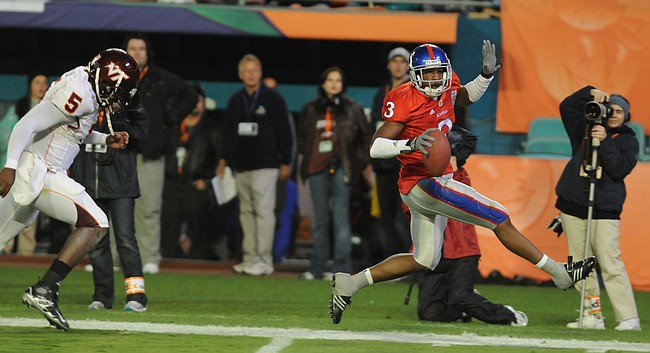 The signature play from Kansas 24, Virginia Tech 21, in the Orange Bowl 10 football seasons ago came early, courtesy of the biggest star in a game loaded with future NFL players.
Aqib Talib intercepted a Tyrod Taylor pass and streaked 60 yards down the left sideline to break a scoreless tie with 5:15 left in the first quarter.
During Talib's interview on national TV right after accepting the MVP trophy, a replay of him high-stepping into the end zone played.
"I got the flag, but I was feeling it," an animated Talib hollered. "I felt like Deion. I felt like Deion right there."
Deion, of course, was Deion Sanders, such a bright star no last name was needed. Aqib has reached the only-one-name-needed level of stardom and would be known simply as Aqib if Aqib Talib didn't rhyme so nicely.
"It was a good tempo setter," said then Kansas head coach Mark Mangino, who will be honored with the rest of the Orange Bowl team Saturday in KU's season-opener vs. Southeast Missouri State. "It built confidence in the whole team. From there, you could see, 'Hey, we can beat this team. We've got a chance.' "
A mental and physical football genius, Talib's play lit up the team. A play that came before it might have been a factor in it happening.
Virginia Tech alternated quarterbacks, starting Sean Glennon. Taylor entered on the fourth play, one that would be as big as any in the game, according to KU's then defensive coordinator Bill Young, now filling that role for Tulsa.
"They ran a bootleg with Tyrod Taylor and Russell Brorsen shot himself right up there and hit him in the face," Young recalled. "I don't think Taylor was the same the rest of the night. He dinged him pretty good, which I think helped us."
On the very next play, Joe Mortensen, a nasty player even by middle-linebacker standards, dropped Taylor for an 8-yard loss. Two plays later, the Hokies punted and Talib's interception came on the fifth play of Tech's next drive.
Kansas ranked eighth in the nation and picked by almost nobody to win, took a 17-0 lead on Virginia Tech, No. 3 in the nation.
"Then the middle of the second quarter and early in the third quarter they started running the ball on us and our defensive coaches did a fantastic job of making adjustments," Mangino said.
The specific adjustment?
"Gosh, I could not tell you," Young said. "That was a lot of games ago."
Trailing 17-14, the Hokies had a chance to tie the scored with a field goal, but Mortensen blocked the 25-yard attempt. Another memorable third-quarter play came on a fake punt, when Brandon McAnderson received the short snap and threw a pass to gunner Micah Brown, who took it for a 22-yard gain.
KU's secondary — which had three starters still playing in the NFL in Talib, Chris Harris and Darrell Stuckey — teamed for a huge game.
Talib, Harris and Justin Thornton all intercepted passes and Talib returned a missed field goal 39 yards.
The front seven paved the way for the secondary's success with five sacks.
Kansas never surrendered the lead. Mangino sent credit the way of strength coach, Chris Dawson, now working under Bill Snyder at Kansas State.
"All throughout the month of bowl practices, we did conditioning after practice three, four days a week," Mangino said. "One of our players was high school teammates with one of their players and he told him, 'We didn't do much conditioning at all.' They practiced indoors. We practiced outside when there was a foot of snow. We used our machinery to make a path from our locker room out to the field and there was a mountain of snow next to the path."
It wasn't snowing in Florida, of course, but it wasn't warm and sunny for either most of the practices or the game.
"It was chilly, no question," Mangino said. "It wasn't your typical Miami weather. We didn't care if we played the game in the middle of a tornado. If you win, it's good."
The Jayhawks won and it was not only "good," Kansas football never had been better, before or since.
More like this story on KUsports.com