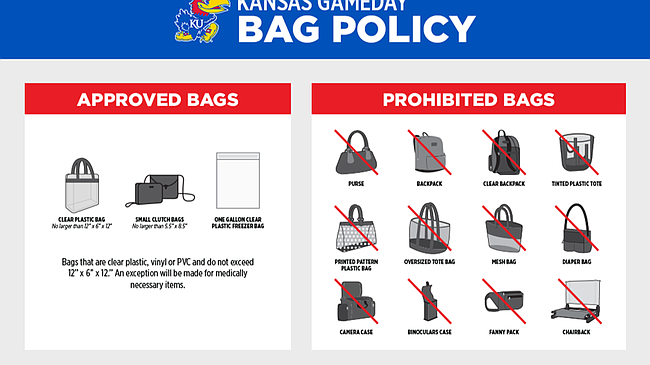 Next week brings the start of a new football season at the University of Kansas — and with it ramped-up security measures meant to keep fans safe in the wake of a new law allowing concealed carry of weapons on campus.
The news that KU would install metal detectors and security guards at football and men's basketball games — as well as ban purses at all ticketed sporting events — came in April, when KU received formal Kansas Board of Regents approval to ban guns from games at Memorial Stadium and Allen Fieldhouse. But with the football team's first home game on Sept. 2, KU Athletics officials want to make sure visitors understand the new policies.
"I think the number-one message that we would give our fans is that they should arrive early," said Jim Marchiony, associate athletic director for public affairs.
If you'd prefer not to miss kickoff, he added, make sure to enter the stadium gates (which open to the general public 90 minutes before) a bit earlier than you would normally.

On the KU campus, metal detectors and guards will be stationed primarily at football and men's basketball games, but also at any sporting event expected to draw more than 5,000 people. While Kansas law requires state universities to permit concealed handguns on campus, it also allows exceptions for facilities where adequate security measures — such as metal detectors and guards — are in place to ensure no guns are brought inside.
To that end, KU is putting in place approximately 65 portable metal detectors around Memorial Stadium, and also is adding at least seven entry points in an effort to make the process as efficient as possible. The same design will be used at all home games, Marchiony said, with metal detectors being installed and then taken down each time.
The entire south end of the stadium has been reconfigured, essentially, as a "concourse" with entry to the southeast and southwest. For years, only "Touchdown Club" members were allowed entry through the stadium's south side.
Starting next week, that end of Memorial Stadium will have seven gates, with two dedicated as express lanes meant to expedite the process for those not carrying bags. The stadium's north side will have six gates, though KU Athletics officials are still trying to work out how many will become express lanes.
"You just walk right in and walk through the metal detector and get your ticket scanned and be on your way," said Brad Nachtigal, associate athletic director for operations and capital projects.
Nachtigal and his colleagues are strongly encouraging fans to avoid bringing bags of any kind to KU Athletics events. Starting this fall, any nonclear bag larger than 8.5-by-5.5 inches (about the size of a small clutch or pocketbook) will be prohibited. Bags must be clear, plastic, vinyl or PVC, and should not exceed 12-by-6-by-12 inches. One-gallon clear freezer bags, such as Ziploc brand, are also allowed.
Everything else — including purses, backpacks, fanny packs, camera and binocular cases, chairbacks and diaper bags — is prohibited. Exceptions will be made for medically necessary items after proper inspection by a KU Athletics staffer at the entry gate.
In short, it's best to travel light and arrive early.
"Obviously we'd like this to go as smoothly and as flawlessly as possible, but with our first-time setup and use of this system and the equipment, and the entry points and gates all changing, we have what we feel is a very solid plan to make the experience best for our fans," Nachtigal said.

Between the metal detectors, gate reconfiguration, new signage, bulked-up security staff and other new equipment, costs associated with the new policies are approaching $1 million, Marchiony said. KU Athletics is paying for the security measures with funding from its operating budget.
Fortunately for sports fans, the entry process at Memorial Stadium, he said, won't be all that dissimilar to visiting Kansas City's Sprint Center, Arrowhead Stadium and Kauffman Stadium. Other universities have had comparable security policies in place for years, Marchiony said.
"This is not a new process for many, many folks," he said. "It's just creating an awareness that it's happening at Memorial Stadium so that folks are going to have to adjust the behavior that they've been used to."
The Jayhawks face off against Southeast Missouri State at 6 p.m. Sept. 2 in Memorial Stadium.