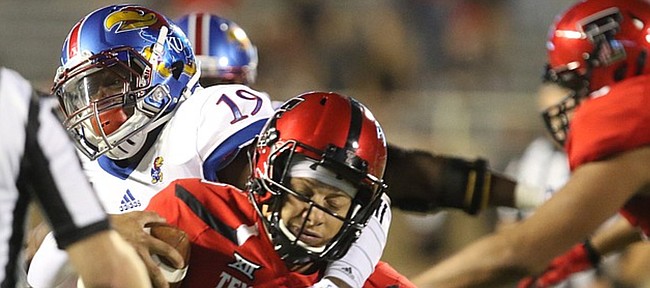 On a 1-to-10 scale that starts with easy and progresses to difficult, Kansas sophomore defensive end Isaiah Bean ranks playing football with a mean spirit a 1 and putting weight on a 10.
So many of us can attest to the challenges of taking off weight. Not Bean.
"Putting on weight is much harder," Bean said. "Two years of trying to put weight on is the hardest thing I've ever had to do."
He said he's eating more protein, having five or six meals a day, putting in extra work in the weight room and "doing whatever I can do to put weight on."
His body is resisting, but he's determined to win the battle.
"When I got here I weighed 200 pounds," Bean said. "Now I'm close to 210, so I'm making progress slowly."
He is listed at 220 pounds on the roster, but that's more wish than fact.
Bean played in all 12 games as a pass-rush specialist last season and looked extremely thin and every bit as quick. He picked up two sacks, a quarterback hurry and three tackles for loss.
Teammates laud him for the edge with which he plays. Some players have trouble flipping the switch to mean needed to play in the trenches, where not all the punches thrown can be detected by game officials. Not Bean.
"Not at all, no sir," Bean said. "I think my mentality on the field is way different from how I interact with people off the field. Once you step on, it's a job and it's time to go to work. My whole mentality will change."
Linebacker Joe Dineen confirmed that.
"He will run through a brick wall at the weight he is at right now because he has no fear," Dineen said. "He will just throw his body at anybody. So if he can get to the right weight, get to the size that Dorance (Armstrong, 246 pounds) is, he can be insanely good. He's got so much talent and speed. He had an impact last year and he weighed as much as a receiver. If he can put weight on he's going to be a problem for the Big 12."
Dineen has seen Bean's nasty on-field demeanor triggered on a number of occasions.
"You don't want to make him mad," Dineen said. "He's a tough, tough kid. He'll smack you."
Guard/center Jacob Bragg is a fan of Bean's potential.
"I like Isaiah Bean. I think he's a really nasty guy," Bragg said. "I think a lot of people don't give him enough credit, the credit he deserves. I think he's a damn good player and yet so young. You don't know what he can really look like, maybe another year in."
Nice guys really do tend to finish last in football. Bean said he thinks Kansas has enough nasty players to succeed.
"Jayson Rhodes can play with a little meanness in him," Bean said of the senior guard. "Dorance especially does, Daniel Wise. Mainly the D-line and the O-line. We basically just fight all day. You've got to be mean to play on the line."
"Mean" Isaiah Bean and Isaiah "String" Bean both are fitting monikers. If he is able to pack on enough muscle without losing explosiveness, the latter label won't fit anymore and he has a chance to become productive enough to become famous enough to have a nickname. He already has a famous roommate, one who has added 30 pounds since arriving on campus.
Bean and Armstrong, both Houston natives, became roommates this summer, so Bean doesn't have to look far for an ideal role model on and off the field.
"Dorance teaches me a lot so any time I have questions about moves or anything I'll go ask him and he'll help me out," Bean said. "I feel really good about it just because I'm trying to be close to being just like him. I take his words very seriously and just try to make my game better."
Bean isn't yet big enough to perform as an every down player, but will help as a role player now and has the potential to develop into a star a year or two from now.
More like this story on KUsports.com