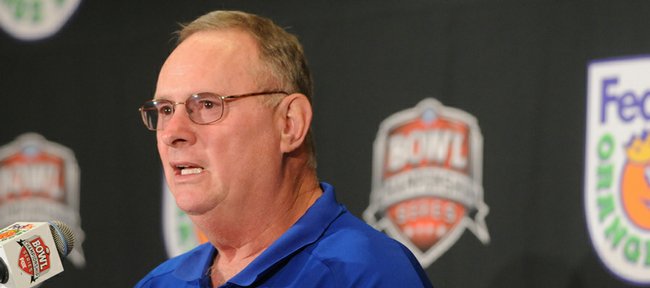 Offense sells. The 2007 Kansas football team had plenty of it with scrambling quarterback Todd Reesing throwing for 3,486 yards and 33 touchdowns, Brandon McAnderson and Jake Sharp combining to rush for 1,946 yards and 23 touchdowns, and Ed Warinner coordinating the spread offense head coach Mark Mangino preferred.
Yet, as spectacular as that offense was on a consistent basis, the defense was even better.
The Jayhawks led the Big 12 in scoring defense (16.4 points per game), rushing touchdowns (eight), passing touchdowns (17, tied with Oklahoma) and third-down conversion rate (32.2 percent).
The two most important players on that defense gained national recognition, with cornerback Aqib Talib earning first-team All-American status and defensive tackle James McClinton picking up second-team All-American honors.
If the defense qualified as the strongest, most overlooked facet of the team's success, then the most unsung force behind it was defensive coordinator Bill Young.
The coaches who worked under him revered him for his knowledge and standing in the college football world and the players liked and more importantly respected him.
Young turned 71 last week. He's doing the same thing now that he was 10 years ago, preparing the defense he coordinates and the defensive linemen he coaches for another season after going 10-3 in 2016.
Young is in his third season at Tulsa, working for first-time head coach Phillip Montgomery. Young worked for Mangino in his first six years at Kansas and left after the Orange Bowl to fill a similar role at University of Miami.
Young shared by phone from Tulsa last week that his stay at KU came very close to ending after his first season, 2002, when the Jayhawks went 2-10 in Mangino's debut.
Young revealed that then Tulsa athletic director Judy Macleod wanted to hire him to replace Keith Burns, forced out after three years on the job, but that TU president Dr. Bob Lawless vetoed the move.
"She told me the president didn't want to hire a coach from a 2-10 team," Young said. "Probably the best thing that ever happened to me. Thank God for unanswered prayers. I probably would have come here, screwed it up and gotten fired."
Not likely. We'll never know, but chances are he would have built a winner and stayed in the job for a long, long time. Another opportunity to become a hot college football coach never came his way.
The former TU president's lack of foresight and desire to win the press conference instead of turn the tide of a losing football program was Tulsa's loss and KU's gain. During his time in Lawrence, Young recruited a steady stream of players from Oklahoma who after being coached up developed into key members of his defense.
Young taught more than just his players. Current Kansas defensive coordinator Clint Bowen learned a great deal from Young.
"It truly was a blessing because, one, Bill knows so much football," Bowen said. "He's had so many great jobs and seen so many things and he's such a good coach, but the thing about Bill also is he's the most patient human being in the world, to take time to always help build coaches up and help you learn. It's his patience and your ability to go and talk to Bill and have him explain things to you that was so great. It was never a burden to him. You ask Bill a question, whatever time it took for him to explain everything about the defense, why he called it, what he wanted to happen, it was such a blessing, his patience and willingness to work with people instead of just barking out instructions."
Bowen pointed to two qualities that made Young a good recruiter for Kansas.
"If you know Bill Young, you trust Bill Young because he's never going to do anything to break your trust," Bowen said. "So for all the years and everywhere he's gone, people know that. When Bill Young tells you something, it's happening. On the recruiting trail, people respect that and know that."
Young's eye for talent put him on the trail of the right players.
"He never got enough credit for his talent evaluation," Bowen said. "No one wanted Chris Harris. No one wanted Russell Brorsen. No one wanted Jake Laptad. No one wanted James Holt. Nobody wanted those kids, but Bill Young went to Oklahoma and he saw them and he came back and said, 'I say this kid can play.' And with Bill's reputation, you took them, and obviously he was right a lot of times.
"Bill could watch a kid practice and he could see things other people couldn't see. He had a real knack for identifying under-recruited guys who turn out to be really good players."
After leaving Kansas, Young spent one season at Miami, then four as defensive coordinator at Oklahoma State, including 2011, when the Cowboys won the Big 12. After a rough 2012 season for the defense, Oklahoma State replaced him. He spent a year as a defensive quality control assistant at Wyoming and then in 2014 returned to coaching high school football for the first time since 1975. He was head football coach at Yukon High in Oklahoma.
"I admire high school football coaches," Young said. "If you're going to do that job, you better get a bunch of different hats. Besides coaching football, I had lunch-room duty, was the equipment manager, did the laundry, was the assistant AD. And it wasn't like I was 25 anymore. At this stage of my career, I don't think my temperament was right for it. My expectation level was a little too high."
In his first stretch at Tulsa (1980-84), Young was an assistant to head coach John Cooper and followed him to Arizona State. No matter where he went or how impressive his resume, peers knew him as the coach with the smallest ego on the staff.
Young said he would love to reunite with his former Kansas players at the celebration of the Orange Bowl team during KU's season-opener vs. Southeast Missouri State, but duty calls. Tulsa opens its season two nights before that at Oklahoma State, Young's alma mater.
"We will need those days trying to get ready for our next ballgame," Young said.
Young described Montgomery as "a great person and football coach." Montgomery certainly made a smart hire in Young, who is anything but old.
"I'm enjoying myself," Young said. "I want to coach until I feel like I'm not doing a good job."
In that case, no need to shop for a rocking chair any time soon.
More like this story on KUsports.com