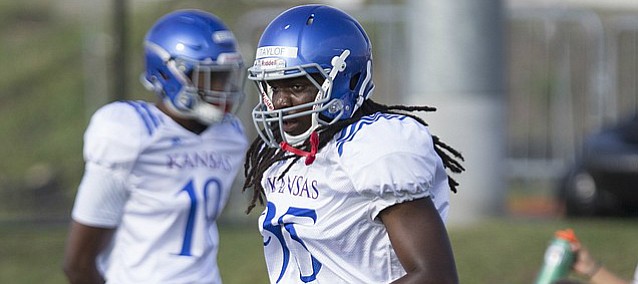 At one of the deepest and most talented position groups, defensive end Vaughn Taylor Jr. quickly impressed his Kansas football teammates and coaching staff.
Taylor, a freshman walk-on from Washington D.C., wasn't an expected addition to the team until near the end of the summer. But from the first day of fall preseason camp, he stood out.
Originally committed to play at Navy, Taylor reopened his options and called KU defensive line coach Jesse Williams looking for a place to play. Williams, who joined the Kansas staff this spring, previously tried to recruit Taylor to Ohio.
In the first week of fall camp, head coach David Beaty mentioned Taylor as a possible contributor in the upcoming season. Even if he doesn't see much playing time in his true freshman season, he's shown enough talent that people are confident he will make an impact whenever he steps on the field.
"He shocked me his first day," KU defensive end Dorance Armstrong Jr. said.
Taylor, listed at 6-foot-3, 230 pounds, received all-metro honors from the Washington Post last year, recording 57 tackles and a staggering 23 sacks in his senior season of high school at Friendship Collegiate Academy. The newspaper called him an "unblockable edge rusher."
Beaty frequently jokes with Taylor about his age, saying he looks closer to a 40 year old than a freshman.
"He looks like a grown man," Beaty said. "He's got to get some weight on him. He's light right now, but I like the things that he does. He's conscientious, he's smart, he really, really works hard. He stays on top of all of his little details, which is good."
In the latest week of camp, Williams said some of Taylor's progress has been slowed as he tries to learn the playbook and keep up against bigger and better players than he's faced. Taylor played in high school around 205 pounds.
But the coaching staff is encouraged by Taylor's willingness to improve. According to Williams, Taylor was fourth in his graduating class academically and he's one of the players that chooses to stay late at practice for more instruction.
"Not going to put the cart before the horse, but he's going to do something in this program," Williams said. "There's no doubt about that."
Taylor, wearing No. 95, was one of the several beneficiaries of extra reps in practice when Armstrong and another potential starting defensive end, Josh Ehambe, sat out because of injuries.
With more depth on the defensive line this season, Taylor will have plenty of competition to earn snaps this fall. But those around him are confident he will continue to show his potential.
"He's working hard on the playbook," Williams said. "It's not coming as fast as he would like, but we're just going to keep grinding and that's what camp is all about."