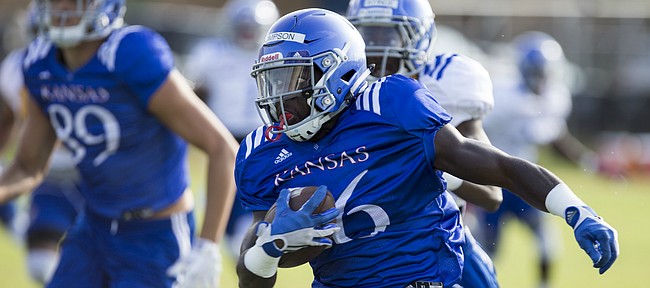 As he is wont to do, Kansas football head coach David Beaty used a portion of his interview time this week to highlight the names of players who grabbed his attention with their play over the course of the past several practices.
The following is a list of Jayhawks referenced by Beaty Friday morning, following the team's 11th practice of preseason camp, along with how their head coach described their impact.
• Dom Williams, fr. RB: "Unless he gets hurt, I see no way that guy's not going to play for us. Very talented guy. He's mature beyond his years and very talented."
• Evan Fairs, soph. WR: "Another guy that stuck out to me this week. Made some plays.
• Dorance Armstrong Jr., jr. DE; and Daniel Wise, jr. DT: "Continue to impress."
• Maciah Long, soph. DE: "Another guy that just continues to disrupt and be in the backfield a lot. Is getting better by the day."
• Quan Hampton, fr. WR: "Another guy that's just very dynamic. Very mature kid for a young guy. Watching him develop as a returner, watching him develop as a receiver has been fun to watch."
• Shakial Taylor, jr. CB; and Hasan Defense, soph. CB: "Continue to make plays on the defensive side."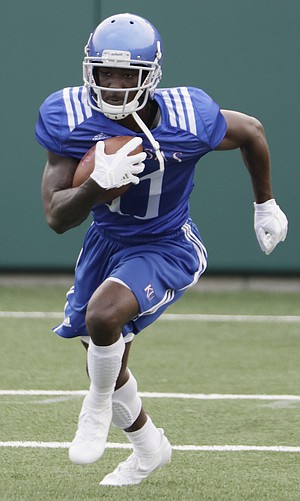 • Jeremiah Booker, jr. WR: "Continues to make plays for us out there at the wideout spot."
• Steven Sims Jr., jr. WR: "Another guy that just sticks out to you every day out there."
• Deron Thompson, jr. RB: "A lot of times (media members are) looking for names that you don't know, right? Another guy that I don't know that I've had a time I've spoken to you that I haven't said his name. Another one that is really helping our running back depth there."
• Entire offensive line: "They're just better. There's really no other way for me to say it than they're just better. They look more mature. They move better. They're bigger. They've gotten better. And that's good to see. I hope we can continue that trend as we move forward."
Week 2 of camp complete
Saturday marked the 12th camp practice for KU, and the conclusion of the second week of preseason preparation for the upcoming fall campaign.
"We've had a really, really productive week," Beaty said Friday. "It's been a very physical week, which it should be at this time of year at camp. It's been a deal where we're kind of testing that mental grind on our guys right now and seeing how they're going to react to that."
KU's coaches have tested their players primarily through a variety of situational work, with the goal of becoming a "smart team," as Beaty put it. While the offense and defense scrimmaged Friday, most of the week involved specific scenarios, such as two-minute drills, red zone plays, third- and fourth-down situations, short-yardage and goal line work and plenty of special teams development.
Photo Gallery
KU football practice Aug 11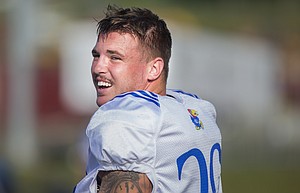 View a gallery of images from a tour of the newly-constructed Downs Hall at KU.
"We talk all the time about a smart team's a hard team to beat. And you can't become a smart team if you don't put those guys in those situations, so when they get there they know how to react," Beaty said. "So we've really been working hard at making sure we're not just putting the ball down and playing, but we're trying to be smart as we do it."
'Grind' of camp brings wear and tear
Although Beaty offered no injury updates Friday he said the Jayhawks have experienced the expected wear and tear of camp.
"If you're not a little banged up at this point then you're not going hard enough in my opinion," Beaty said. "We need to be a physical football team on both sides of the ball. We're in a normal setting when it comes to fall camp. It's going to be one of those deals where guys are going to be banged up and it's going to be like that during the season."
KU's third-year head coach said the staff will pull back a little on what's asked of the players as they get closer to the Sept. 2 opener versus Southeast Missouri State.
"Right now we're in the middle of the grind," Beaty said, "so it's been good to see guys fight through little nagging things and really taking care of their body."
Beaty also revealed he will on Monday provide health updates on all players KU expects to miss "substantial time" this season.
"I could talk to you about everybody who has a hangnail but that's not going to be anything of substance to you," he said.