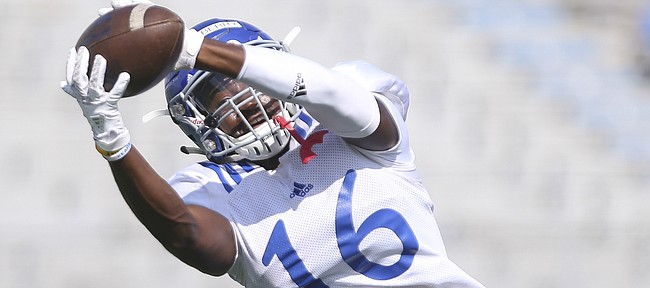 Five position battles for the top spot on the depth chart stand above the rest as most intriguing during the Kansas football team's fall camp.
1 - Quarterback: Peyton Bender's ultra-quick release and accurate throwing give him the edge on paper, but battles aren't won on paper, they're won on the practice field.
A few Kansas coaches have likened Bender to former Texas Tech QB Graham Harrell in that he's not very big, not a scrambler, and as a poised, quick decision-maker has the potential to carve up defenses with accurate throws.
Taking over for the final third of the 2016 season, Carter Stanley put a pep in the step of a Kansas offense that had dragged for so long. He doesn't quite have Bender's arm strength, quick release and accuracy, but he knows how to fix broken plays with terrific athleticism and quick decisions. He's a running threat.
Bender spent two years at Washington State, the first as a redshirt, and one season in junior college. He was beaten out at Washington State by Luke Falk, a Heisman Trophy candidate and NFL prospect.
Why not name a starter now? Here's a theory worth considering: Air Raid quarterbacks who lose starting jobs tend to transfer immediately. If Bender were to be named the starter tomorrow, that would give Stanley time to transfer to a junior college for a year and then select another school. That might sound extremely paranoid. Then again, since when isn't football packed with paranoia?
Edge: Bender.
2 - Right tackle: Charles Baldwin and Antione Frazier.
"Antione's been running with the ones, Charles the twos right now," offensive line coach Zach Yenser said after Saturday's practice. "It's going to come down to who can be more consistent with it."
Baldwin is older, bigger and more experienced. Frazier has displayed a more consistently strong work ethic and mature approach.
Edge: Frazier.
3 - Right guard: Chris Hughes and Larry Hughes.
Both Hughes guards (no relation) have reshaped their bodies, adding a great deal of strength.
"Chris Hughes is up to 300 pounds right now as a redshirt freshman," Yenser said. "He's 300 pounds! And if Chris Hughes walked through that door right now, you would not think he's 300 pounds. I mean, he is a big, thick, heavy-handed dude. He's probably not even (6-foot-3) and . . . he has an 84-inch wingspan. That helps him."
Edge: Chris Hughes.
4 - Nickelback: Kyle Mayberry and Derrick Neal.
Tevin Shaw, such a smart football player, played the position with a physical edge and earned high grades for run support. Defensive coordinator Clint Bowen wants more speed at nickel this season to combat the relentless Big 12 passing offenses. Whereas Shaw was more like having an extra safety on the field, Mayberry and Neal are cornerbacks.
Neal appeared to have the edge in the spring, but the gap has closed, and this is as tough a call as there is on the top line of the depth chart.
Edge: Neal.
5 - Safety: Tyrone Miller and Bryce Torneden.
Miller had the edge heading out of spring practice, but Torneden has caught up with an impressive camp. Miller has a slight speed advantage and rock-solid Torneden is a harder hitter.
Edge: Torneden.
More like this story on KUsports.com