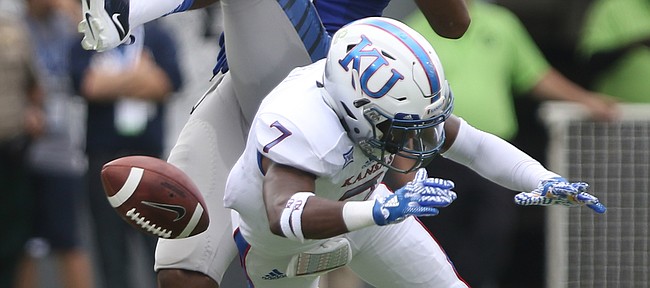 While it's true defensive coordinator Clint Bowen has found early signs from the Kansas football secondary encouraging at preseason practices, the program's assistant head coach also will tell anyone listening that his current opinion of the group doesn't necessarily correlate with fall success.
To truly know how the best of his defensive backs mesh as a unit, Bowen will have to wait and see cornerbacks Hasan Defense and Shakial Taylor, safeties Mike Lee and Bryce Torneden, and nickelback Derrick Neal react to in-game adversity.
"There's no one who's ever played the position who hasn't had a bad play," Bowen said. "It's going to happen out there. All of the DB's, we talk to them all the time about their mentality and the next play makeup of what they need to be."
It's not that Bowen condones defensive mistakes. He just doesn't want a relatively inexperienced secondary to let a breakdown on one play derail his entire psyche.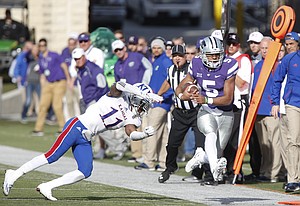 "Each defense has a strength and a weakness," Bowen said, "and if they hit us on a weakness, nobody should panic. Nobody should hit the 'Oh, what's wrong?' button. It's just, 'Hey, they made a play. Now we come back and we make one.'"
When the Jayhawks go live at camp and take on the offense, there are plenty of such learning opportunities, as the defensive backs are charged with stopping receivers such as Steven Sims Jr. and Daylon Charlot.
"It'll make us a lot better," Bowen said of practicing against KU's receiving corps. "They've got some guys over there that are legitimate Big 12 playmakers ... They've got guys that can break off routes and go get the ball and do some things. When you go against those guys, it definitely helps you. There's a difference."
Co-defensive coordinator and cornerbacks coach Kenny Perry, like Bowen, thinks first-year KU corners Defense, a sophomore transfer from Kilgore College, and Taylor, a junior who played previously at South Dakota State and Mesa Community College, have stood out by making plays at practices.
Perry stays on top of his most productive corners, as well as Ian Peterson, Julian Chandler, Shola Ayinde and Antonio Cole, because Kansas needs them complementing the defense's talent up front instead of compromising it. So far at camp, Perry likes the way his pupils are responding.
"We're challenging them. To be a corner in this conference, you better have thick skin and you better have quick feet, because you're going to get tested and you're going to get tired and you've got to come back," Perry said. "So I love the way that each day they're coming back."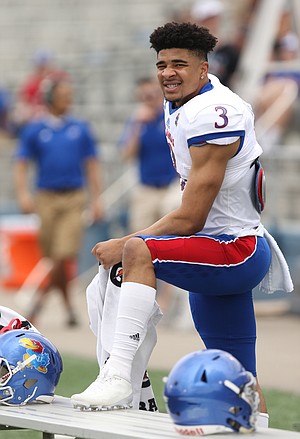 A three-star juco prospect with three years of college football ahead of him, Defense already carries himself with confidence while playing a challenging position. The 5-foot-11, 180-pound corner said he and Taylor have listened to their coaches' demands to play physical at the line of scrimmage when needed.
"With the Big 12 being a passing league, you get real big, physical receivers," Defense said. "So if somebody's going to push you, I always was told to push him back. The best way to make a play is to get into them, be physical and get them uncomfortable."
Defense's next FBS snap will be his first. Hard-hitting sophomore Lee started eight games in 2016. Senior Neal played in 11 games a year ago, his first full season as a defensive back. As a true freshman, Torneden also played in 11 this past year. Taylor played at Memorial Stadium against Kansas in 2015, but hasn't faced an FBS opponent since.
The group may be raw, but Bowen said the defensive backs are locking in on their responsibilities and taking action on their coaches' demands, while learning techniques.
"I think across the board, all the DBs are continuing to progress and develop," Bowen said. "Got some good competition for spots going. Kids are playing hard."