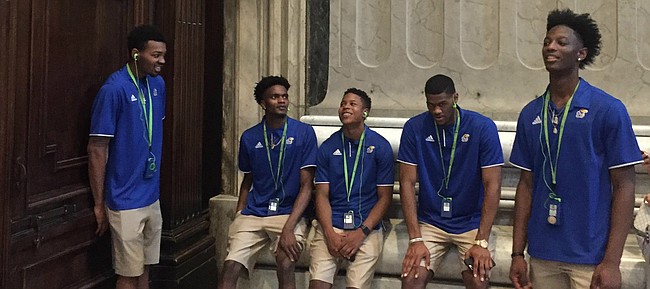 Malik Newman's 32-point explosion, Udoka Azubuike's assault on the rims in Rome and day trips to some of the world's most historic sites — all were memorable parts of the Kansas men's basketball team's recent eight-day trip to Italy, where the Jayhawks rolled to four wins in five days against three Italian clubs.
But it was the down time, hanging together in their rooms, walking the city at night or popping out to get a pizza after yet another victory, that created some of the most memorable moments for the players. And that, according to Kansas coach Bill Self, was the No. 1 goal of the trip.
Whether at the Colosseum, the Sistine Chapel or on the basketball court, where the Jayhawks were happy to run and gun despite the 100-degree heat, the main focus for the Kansas basketball program's trip was for players new and old to bond and come away with a better understanding of one another.
"All summer we've been competing against each other," said senior Devonte' Graham, who added "just playing with each other," when asked to list the most important part of the tour. "Actually being out there together and getting a feel for guys and what they like to do and different spots they like, I think that helped us out."
With nearly as many newcomers (six) as returning players (seven) suiting up on the trip, Self said throughout the weeks leading up to the Jayhawks' departure that coming together in an environment designed to facilitate just that was something he was hoping his team would benefit from as much as anything.
Asked after the team's final game in Milan for a breakdown of how things went in that department, Self said he saw progress.
"I think we've been tight at times and I think there's times when we haven't been," he said. "Good to get to know each other (because) those (newcomers) don't get it yet. But I think there were some good things that happened on the trip that'll probably be good lessons for us."
Graham agreed and said he hoped their time in Italy would serve as the foundation to build on when the team returns to Lawrence in late August for the start of another school year and the unofficial beginning of the 2017-18 season.
"I think so," said Graham when asked if he felt like progress was made in the chemistry department. "We've got six new guys on the team. For some teams, that'd be real hard. But I think the attitudes and how good of kids they are, we all just get along real well."
A big reason for that is the presence of Graham, the cheerful, undisputed face of the Jayhawks, whose energy and enthusiasm for everything he does — on and off the court — is contagious and has served as a great example for what Self wants this team to be.
"Devonte' Graham will be our leader," Self said. "He's been through all the wars and he'll be our team leader more than anybody else. I'd like for everybody to lead by committee, but he'll be our biggest leader."
Like many of his teammates in their respective corners of the country, Graham will spend the next couple of weeks back home in Raleigh, N.C., with friends and family. And when he returns, he made it clear that the care-free fun of seeing the sites and sampling gelato would be replaced by all-out focus and intensity as the Jayhawks gear up to make a run at Big 12 title No. 14 in a row and another national championship.
"We're going to get even closer as we get back to school and practices start and we go through boot camp and all that," Graham said.
• In case you missed any of our coverage from Italy — brought to you by KU Bookstore — be sure to check out Matt Tait's latest Tale of the Tait blog, which recaps the trip in chronological order through the sights and sounds the Jayhawks enjoyed.