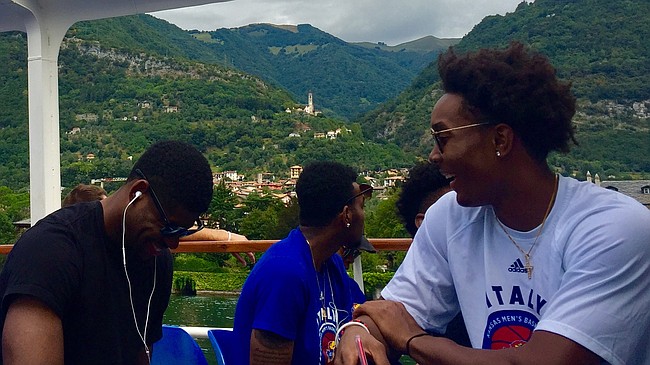 Milan — After cruising through four games against Italian foes on the basketball court during their eight-day exhibition tour of Italy, the Jayhawks boarded a boat on Monday morning and spent their final day abroad on an actual cruise.
A little more than 12 hours after sprinting past Dream Team Italy, 118-74, in the final game of the trip, they traveled by bus an hour north to Lake Como. There, they hopped on a boat with the entire KU travel party and toured the majestic lake and the resort town of Bellagio on the far end, just minutes from the Swiss border and at the base of the Alps.
Photo Gallery
Jayhawks on Lake Como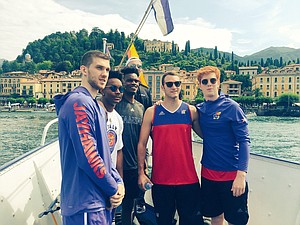 The Kansas men's basketball team capped its Italian exhibition tour with a ride around Lake Como and a visit to upscale resort town Bellagio on Monday, Aug. 7, 2017.
Big man Udoka Azubuike, who missed KU's final two games in Italy because of illness, made the trip and was one of the more popular players on board.
In addition to hanging out with teammates, Azubuike created some fun memories posing for pictures with fans — one gentleman pointed out that he also had his picture taken standing next to Shaquille O'Neal, "and you're a big fella' just like him," while a woman requested a picture of her hand held up against Azubuike's giant mit. The KU center also spent a lot of time documenting the surreal scenery and his teammates with his own camera.
"Not a bad way to spend a Monday," KU sophomore Mitch Lightfoot told one teammate as the boat charged toward Bellagio.
Considered by many as one of the most upscale resort towns in the world, entering Lake Como and Bellagio was like entering another world. The breathtaking views were all around and never-ending, and the tour guide continually pointed out villas that were used in Hollywood movies or homes that either currently or once belonged to the rich and famous. Included among them were George Clooney, who was rumored to be arriving at Lake Como any day, late fashion icon Gianni Versace, Madonna and more.
After arriving at Bellagio, the Jayhawks and KU fan base were given two hours to explore the scenic hillside resort famous for its shopping, good food and incredible views.
While his family shopped, KU coach Bill Self joined athletic director Sheahon Zenger for lunch and a conversation while the players split into small groups and went searching for the best meal or gelato they could find. As was the case throughout their time in Italy, many players posed for pictures with curious and excited locals who were in awe of the presence — and size — of the KU basketball players.
As the team boarded the boat to begin the adventure, one older Italian gentleman on a bicycle stopped in his tracks and could not stop smiling while shouting "America" and "basket," presumably referencing basketball and not requesting that one of the players bring him back an actual basket from Bellagio.
After finishing their lake tour, the Jayhawks returned to Milan, where they hosted a farewell dinner at the team hotel and made final preparations for their flight home, which was scheduled to leave just before 11 a.m. local time.
KU officials said the entire team was returning to the U.S. together, but added that some players would branch off and visit family for the next two weeks before returning to campus on Aug. 21.
More like this story on KUsports.com