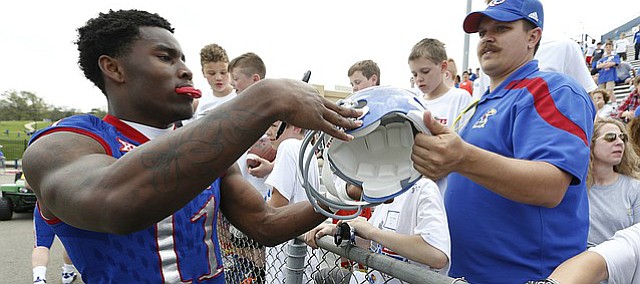 During the spring football game in April, Kansas safety Mike Lee saw a screen pass developing in front of him around the 15-yard line and his eyes lit up.
Known for his loud, bone-rattling hits, Lee darted to the ball at full speed.
Except this play didn't end with the crowd gasping and his sideline jumping up and down. After receiver Steven Sims Jr. caught the ball, he made a small cut and Lee only grazed Sims' leg as he trotted into the end zone.
Lee rolled on the ground, then slammed his hands onto the Memorial Stadium turf in frustration. He punched the ground with his right hand two more times before rising to his feet.
Entering his sophomore season, Lee has big goals for himself and the rest of the team. From the coaching staff, the main message is to avoid missed tackles, just like the play on Sims' touchdown catch in the spring game.
"He throws everything he's got in that 175-pound body at people, but we do have to learn how to use more technique," KU coach David Beaty said. "I think it's going to culminate into a lot more tackles for him. It might not be the highlight-reel tackles that I know he loves to make, but he can be even better than he is."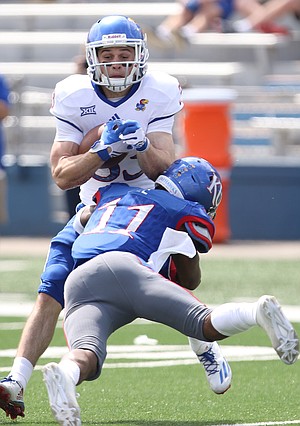 The 5-foot-11 Lee is brash and unafraid to show some style. Last season he earned freshmen All-America honors from Rivals and Athlon Sports.
Some of his success last year was purely on natural skill. He didn't have a chance to practice with the team throughout the summer, finishing high school courses to graduate one year early. He arrived for the first day of fall camp and finished the season with 70 solo tackles, which tied for the team lead.
Lee constantly found himself near the ball, which meant he had his good moments and bad moments. He apologized to his teammates for his mistakes in a 55-19 loss to Texas Tech, believing he was the reason the defense gave up several big plays.
Yet it was against Texas Tech when he delivered his first big hit at the college level. He crushed running back Demarcus Felton, using a 10-yard running head start before lowering his shoulders.
Pound for pound, not many players throughout the country can match Lee's knack for big hits. Lee's favorite was his hit on Kansas State running back Alex Barnes in the regular season finale. He thought Barnes would step out of bounds before sending him flying on the sideline.
"If I know I can hit somebody hard, I'll do it," Lee said. "If I can't, I'll still do it."
Lee, who admits that he loves to trash talk, is focused on becoming known for more than his big hits. One of his bad habits in Cover-2 defensive alignments was spending too much watching the quarterback's eyes.
Beaty told Lee that he wants him to lead the Big 12 in tackles, but he can't afford to lead the conference in missed tackles. A key will be running at a more controlled pace.
With a full offseason of practices, he's prepared to take on a bigger role. In the first few days of fall camp, coaches have already noticed a big difference.
"I know what I'm doing now," said Lee, the team's only returning starter in the secondary.
Outside of Lawrence, Lee represents a new wave of talent from Louisiana to join KU's roster.
Two of the players with non-binding verbal commitments in the Class of 2018 — five-star receiver Devonta Jason and four-star cornerback Corione Harris — played with Lee at Landry-Walker High.
Lee went back to his high school in May to graduate alongside his former classmates, and he frequently heard from his high school principal and teachers when his big hits appeared on highlight shows.
With Kansas picking up more commitments from Louisiana, Lee enjoys his role as a "big brother" in the New Orleans football community.
"They'll hit me up," Lee said, "and be like, 'How is Kansas? How is they treating you? How are workouts? How are the coaches?' I would give them good news because the coaches are really good. I would tell them and they were like, 'Well, I'll be looking forward to playing with you.'
Before the spring football game, Denver Broncos all-pro cornerback Chris Harris spoke to the team in the locker room.
Harris singled out some of the top players on the team, before he turned to compliment Lee.
"Where's Mike Lee at? You keep doing what you're doing, you're going to be where I'm at,'" Lee remembered. "I was like, 'Thank you.' Really hearing that from a famous NFL football player, that really brought more attention."
Lee beams with pride about the attention he's receiving for his play on the field.
During post-practice film sessions in the offseason, KU defensive coordinator Clint Bowen told Lee that he needs to continue to improve and that he should learn from Fish Smithson's example last year.
Lee agrees that there's room for improvement, but he doesn't want to be known as the next Fish Smithson or any other player.
"Really, how I am, I don't really like to be like nobody," Lee said. "I like to be myself."