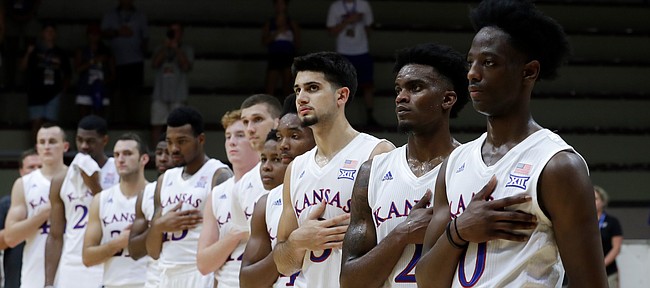 Milan, Italy — His older brother's status as a bona fide NBA scorer with the Denver Nuggets and now Los Angeles Clippers makes him at qualified to know what good basketball looks like.
And Players Group guard Federico Gallinari believed he saw it on Saturday night.
"I know about them," Gallinari told the Journal-World after Saturday's 99-71 Kansas victory. "They're crazy good. They are in the Top 10 of the United States and it's an honor and a pleasure for me to play against them. My dream is to play with them or against them when I'm in college so we'll see."
Gallinari's compliments for the Jayhawks was not based solely on what he saw during his two clashes with them on Italian soil this week. Instead, Gallinari entered the week with a better understanding of KU's status than any of his Players Group teammates based on the recent time he spent living and playing basketball at Wichita's Sunrise Academy.
"I sent them videos, so they called me and said, 'Let's try it, let's try it,'" Gallinari recalled of his path to Sunrise. "So I went there from last August to March."
During that time, he saw a few Kansas games on television and learned, first-hand, how important the Jayhawks are to the people in the Sunflower State.
As for what aspect of seeing them up-close-and-personal imporessed him the most, Gallinari rattled off a laundry list of answers.
"Their 3-point shot, the athletes that they have, the big guy that they have, he's so good and so big. I mean, he's really big," Gallinari said. "They are a really good team and they are solid together."
The Italian guard finished just 1-of-10 shooting on Saturday night but added six free throws (nine points total) and six rebounds in the loss.

Start spreading the minutes
His plan entering Game 3 of the Jayhawks' Italian tour was to let the eight scholarship players who will be eligible to play during the first semester play together for at least 30 minutes of the game.
But the unexpected absence of big man Udoka Azubuike, who missed the game due to an illness, foiled the plan and nobody played more than 25 minutes in the KU victory.
"Well, we (couldn't) since 'Dok wasn't here," Self said of scrapping the plan.... I think this was the hottest night we've had, but our starters still (only) played 22-23 minutes so they did fine."
Who's got next?
Throughout his team's tour of Italy Self and his staff have been clamoring for tougher competition in order to push his Jayhawks a little more than they've been pushed thus far.
With just one more game on the docket, it remains to be seen whether that reality is in the cards for Kansas on this trip, which will wrap with Sunday night's game in the same building — Noon central time — and officially will end when the Jayhawks board a plane for the United States on Tuesday morning.
"I don't really know," Self said when asked what he expected from Sunday's competition. "Probably just a little bit of the same thing. I asked 'em who was playing and they said, 'Different guys.' I said, 'Well, are they pros?' And he said, 'Different guys.' So I don't know if it's gonna be more competitive."
Italian Fieldhouse?
Self said he was thrilled with yet another supportive KU crowd that made itself heard throughout Saturday's victory. "Great crowd," he said. "I don't know how many the place seats. We probably had 500 people here and probably 300 Jayhawk fans at least. So it was a really good crowd considering the situation."
Whether that had an impact on the way the Jayhawks played or not is hard to say. But the players, along with assistant coach Jerrance Howard, who on one occasion waved to the fans after helping clean up the court, did seem to be playing to the crowd a little bit.