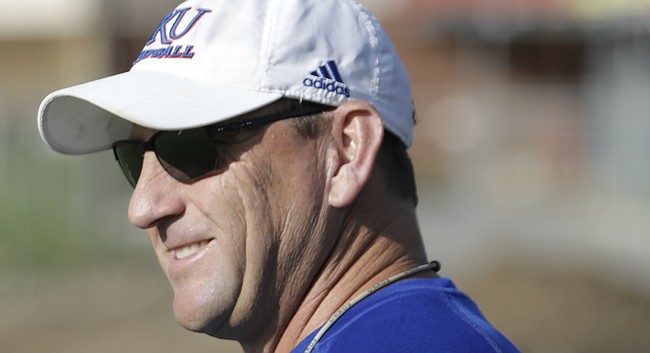 His Kansas football team isn't yet deep enough into August practices to have experienced a scrimmage, but head coach David Beaty gave his Jayhawks a taste of gameday-like situations Friday.
In full pads for the first time at preseason camp, KU players went live during certain team periods. Although they didn't simulate drives by moving up and down the field — Beaty said they just brought the ball back to the 41-yard line after every play for one portion and ran third-down situations during another — it allowed coaches to evaluate how the offensive, defensive and special teams players have handled the installation of their respective playbooks.
"We had, I don't know, about 15, 20 plays or so between three groups," Beaty said. "So we really didn't get more than 25 shots on anybody's legs. It's too early for us to start losing guys. We didn't think they were acclimated to be able to do that yet."
KU redshirt sophomore quarterback Carter Stanley said although it wasn't a scrimmage there were positives to take from the live situations.
"The previous days we'd run some team periods where you're doing 11-on-11, it's full speed, maybe not like tackling. It really didn't feel that different, but it definitely felt good to go out there and see some guys flying around, making plays," Stanley said.
According to junior QB Peyton Bender, the offense got off to a slow start and didn't look good initially during its first competition in full pads. But Bender was glad to see the unit respond appropriately.
"We had a few drops by some receivers and we had a missed block on the O-line. I'm proud of the guys, how we didn't hang our heads and shut it down," Bender shared. "We really worked through it and turned it around. And by the end we were rolling. So it's good to see we could face adversity and really get through it as an offense."
Beaty reported both Bender and Stanley did a good job of making reads during the 11-on-11 situations. The head coach added he wasn't in a rush to have any of his players scrimmaging.
"We're taking our time and trying and making sure we do it the right way, that we don't just start throwing a bunch of stuff on the wall," Beaty said. "We make sure that they got the foundation of it before they move along. Because we think some of these young guys are going to play for us and we don't want to miss this opportunity to make sure they got the basis."
New tight end in the mix
Another new name showed up on KU's roster this week with the arrival of sophomore tight end James Sosinski.
Sosinski, from Chandler, Ariz., signed with Massachusetts as a quarterback out of high school in 2015 and redshirted before transferring.
Listed at 6-foot-7 and 260 pounds, Sosinski spent the 2016-17 school year as a basketball forward for Stone Mountain Community College (Ariz.), where he averaged 19.1 points and 12.4 rebounds a game.
Beaty described the new Jayhawk, who arrived mid-week, as a "big ol' dude," who reminds him of the massive tight ends associated with Kansas State and Oklahoma State.
"So having him out there the last few days, seeing the light come on for him, has been good," Beaty said.
Freshman RB too talented to keep off field
Although Beaty hasn't even referenced a depth chart for any position at this point, the coach is convinced true freshman running back Dom Williams will find a way to make an impact for the Jayhawks soon.
"Man, I just got off the field and watched Dom Williams do some stuff that you don't see young guys do very often," Beaty said Saturday of the four-star running back from McKinney, Texas. "He's talented. This dude can run. Great vision, great balance. We hit on him. There's no doubt about it. I mean, he's going to play. Unless something happens and he gets hurt or something, I mean, that boy is going to play for us. He's a good football player."