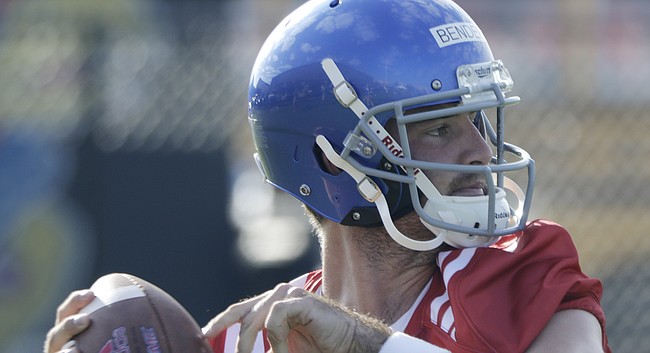 Six practices into Kansas football's preseason camp, the quarterback competition remains as close as when it began in January, with the arrival of junior transfer Peyton Bender.
Head coach David Beaty offered no indications of redshirt sophomore Carter Stanley or Bender taking the lead or out-playing the other at practices this week. Beaty only reveled he has enjoyed watching the pair of quarterbacks vie for the starting job.
"I think we've got two very talented guys there that are operating this offense at a really high level, which is good," Beaty said.
Their position coach, Garrett Riley, with the two QB candidates at every snap and every meeting, also liked what he saw, and noticed important progress from both Bender and Stanley.
"Both guys are creating, making some innovative plays when things break down. Both of them have done that and that's been a real positive from where we started in the spring," Riley said. "I think both of them are gaining confidence and getting a comfort level with just our style."
It used to be that when KU's new offensive coordinator Doug Meacham or Riley asked something of the quarterbacks, the players would have to process it. Riley said now they have a better understanding of exactly what is wanted with each play call.
"They're certainly grabbing hold of that and you're starting to see command of the offense… They're starting to really run the show, and that's what's been positive thus far," Riley said of what most impressed him this week. "Now have we been perfect? Absolutely not. But for the most part I've been pleased with that."
Bender, who learned the Air Raid at Washington State, under Mike Leach, and put up big numbers as a juco standout in 2016 at Itawamba Community College (Miss.), estimates the biggest gains he has displayed at camp coincide with his broad approach to the position.
"Personally, with my play, I think it's just being consistent, which is something I strive to do every day. I want to be the same guy day in and day out, because that makes you reliable," Bender said. "You know what you're going to get. So I've been pleased with my consistency, but there are a ton of things I still need to work on."
Stanley, who started the final three games of 2016 for KU, has kept pace with his challenger and felt positive about what he has shown thus far, too.
"I just overall feel more comfortable in Coach Meacham's offense just compared to the spring," Stanley said. "I think I'm definitely more comfortable with where to go with the ball and make quicker decisions."
Bender said his list of things to improve include communicating plays to the offensive line and receivers, as well as continuing to familiarize himself with defensive formations and recognizing where defenders are headed after the snap.
"I feel like I have a pretty good understanding of what they're doing, but there's a few times where I think the strong safety's going to roll down but he'll get into deep coverage," Bender gave as an example. "Just knowing what to do after that and being able to react quickly is something you're always wanting to improve on as a quarterback."
Likewise, Stanley said his primary goals for further improvement revolve around always taking what the defense gives him and making the right reads.
Riley said both Bender and Stanley occasionally fall into the trap of trying to do too much by themselves instead of utilizing the talented skill players around them.
Even so, their head coach, while not ready to name a No. 1 QB, remains optimistic about KU's potential at the position.
"Both of them, like I said, they're very talented," Beaty said. "I think that they do a lot of things very differently. But they actually do both move pretty well, which is something that I don't know that I thought Peyton was such a good-moving guy, but he moves pretty well. He's very efficient back there in the pocket."