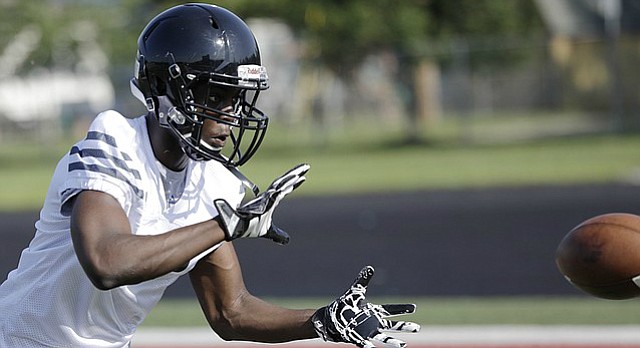 Within a 48-hour period at the end of July, Lawrence High senior Ekow Boye-Doe received a major boost in his college recruitment.
After beginning the summer searching for his first Division I college football scholarship offer, Boye-Doe landed offers from Kansas State and Kansas on back-to-back days.
Leading up to the pair of offers from Big 12 schools, Boye-Doe had a feeling that he was picking up some interest from both programs. He just didn't know it would result in offers.
"It was a great week," said Boye-Doe, who is being recruited by both teams to play cornerback. "I felt very blessed."
Boye-Doe, 6-foot, 165-pounds, received his offer from Kansas State on July 20 when he talked to quarterbacks coach Collin Klein over the phone.
When he participated in KU's Friday Night Lights camp on the following night, the Jayhawks responded with their own offer.
Earlier in the summer, Boye-Doe picked up offers from Missouri State, Northern Iowa and Northwest Missouri State.
"He's as long as all get out," Lawrence coach Dirk Wedd said. "He's got a nose for the ball. He's going to hit you. He was a little shy as a sophomore. As a junior, we started saying, 'You know, he's a tough kid.'"
Boye-Doe traveled to Manhattan for an unofficial visit Monday alongside Free State High junior receiver/defensive back Keenan Garber.
The two local standouts were given a tour of the facilities by Klein and K-State director of recruiting Taylor Braet.
"I had a great time down there," Boye-Doe said.
Boye-Doe started receiving attention from the Kansas State coaching staff earlier this summer when he participated in one of their individual camps. During a camp at Northwest Missouri State, Boye-Doe was clocked at an eye-popping 4.38 seconds in the 40-yard dash.
"I actually just started going to camps this summer and showing my talent," Boye-Doe said. "I think that was the big thing, especially going to K-State. I think that really set the tone."
Boye-Doe doesn't have a decision date in mind to end his recruitment — "We will see, I'm not sure," he said — but he's thrilled to see his hard work paying off. He said he's always dreamed of playing college football and he started to realize it was a possibility in his sophomore year.
Preparing for the upcoming high school season, Boye-Doe will likely start on both sides of the ball. He had 21 catches for 330 yards and three touchdowns at receiver during his junior year.
After picking up more attention on the recruiting trail, he said it won't have any effect on him.
"It doesn't really faze me," Boye-Doe said. "I'm still going to play the same either way."