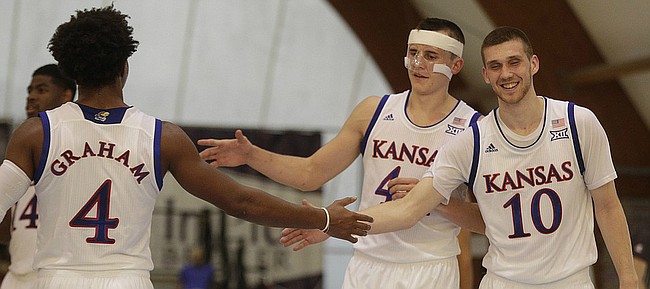 Milan, Italy — The Kansas men's basketball team arrived in Milan early Friday afternoon, fresh off of a three-hour train ride from Rome and a couple of easy victories to kick off their four-game tour of Italy.
Given that Friday marked the second significant travel adventure in the past five days, KU coach Bill Self gave the Jayhawks most of Friday off to rest, recharge and get ready for the final two games of the trip, the first of which is set for noon today against the same Players Group team that KU defeated 92-61 in Game 2 in Rome.
One KU assistant coach told the Journal-World on Friday that he thought Players Group was trying to add some more talent to its roster in time for the rematch, a move that no doubt would please Self and the Jayhawks.
One player who might not need to face improved competition is senior guard Svi Mykhailiuk, who has been back with his KU teammates for just five days after spending most of the summer playing with the Ukrainian national team in various European tournaments.
Mykhailiuk, who made the decision to return to KU for his senior season on deadline day last May, said he enjoyed his time away because it gave him a chance to work on parts of his game that he believed would be important in Lawrence this winter.
"It was great playing for my national team, being a leader, having the ball all the time, just making plays for my teammates," Svi said of his summer with Team Ukraine in which he led all scorers in the U20 European Championships averaging more than 20 points per game. "It just helped me a lot to get better and become the leader that I can be at Kansas."
Mykhailiuk's leadership was not on full display during KU's two games in Rome. But his moxie was. Despite rejoining the new-look Jayhawks just one day earlier, Mykhailiuk stepped right in and looked like one of the more polished and complete players in a Kansas uniform.
He averaged 8.5 points in 14 minutes per game and found his outside jumper heat up in Game 2, as he finished 3-of-4 from 3-point range after misfiring on his only attempt in the exhibition opener. Beyond that, his body language looked like that of a veteran who had been around the block a time or two.
Asked if how he looked and how he felt were one and the same, Mykhailiuk said he had not fully transitioned into the role of upperclassman yet.
"Not really," he said. "Because (forward) Billy (Preston) is the same age as me and he's a freshman and now I'm a senior. But I wish I was a freshman."
As for whether he got what he hoped to get out of his summer with Team Ukraine, which actually is not quite over yet, — Mykhailiuk is expected to travel back to Lawrence with the Jayhawks but is scheduled to join his national team to compete in the FIBA Eurobasket 2017, Aug. 31-Sept. 17 in Israel and Turkey — Mykhailiuk said he thought playing back home for the second summer in a row was good for the overall development of his game and he's hoping that will benefit the Jayhawks during his last season in Lawrence.
"I think I played better (this summer)," he said. "But every year's a different competition and this year was pretty hard and we did what we could."
Garrett to the glass
Kansas freshman Marcus Garrett snagged an offensive rebound five times during KU's Game 2 win over Players Group on Thursday night in Rome, using his length, athleticism, drive and intelligence to steal a couple of extra possessions for the Jayhawks.
The five offensive rebounds — of a team-high 12 in the game — were one more than the rest of the KU roster recorded combined. But Garrett was hardly impressed about the number when asked about it after the victory.
"That's just part of my game," he said. "I like going to the offensive and defensive boards and I know most people aren't gonna box me out because I'm a guard so I know I got a clear path to the lane most of the time so I just try to take advantage of that."
Small world
As if having former Kansas Jayhawk Carlton Bragg Jr., in the same town at the same time with his new Arizona State Sun Devils team was not strange enough, the Jayhawk connection to Italy stands to get even deeper in a couple of days when Toledo arrives in Italy to compete in an exhibition tour of its own.
The Rockets' roster includes former Lawrence High standout Justin Roberts, the son of KU assistant Norm Roberts who played in 30 of 34 games as a freshman last season, and he and his teammates will arrive in Rome the day after the Jayhawks leave Milan.