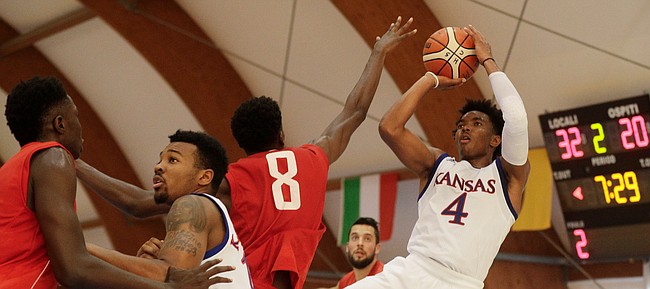 Rome — The talent of the opponent was slightly better but so were the Jayhawks.
That was the story Thursday night from Rome, where the Kansas men's basketball team improved to 2-0 on its four-game Italian exhibition tour with a 92-61 victory over Players Group Roma, a collection of professional players from various Italian leagues.
Despite the game finishing with nearly the exact same score as KU's exhibition opener one night earlier — a fact that did not slip past KU coach Bill Self — the Jayhawks improved enough in a handful of important areas including 3-point shooting, defensive intensity and the turnover department.
No player better demonstrated that than freshman guard Marcus Garrett, who played much more like a big man and said he felt considerably more comfortable in Game 2 than he did in Game 1.
"I was nervous (in Game 1)," said Garrett after finishing with 10 points, 12 rebounds, two steals and two assists in Game 2. "I hadn't played a game since March and (Wednesday) I didn't know what to do. I was a little nervous, first college game, and coach just told me to go out there and relax and play today and I just relaxed and it felt good."
If what he showed on Thursday was Garrett relaxed, the Big 12 Conference is going to hate if it ever sees him turn it up. All over the floor — and the stat sheet — Garrett again played with poise and confidence from start to finish in delivering a lot of those intangibles that coaches love to see.
He got the offensive glass five times and helped steal extra possessions for his team.
"Well, Marcus is good," KU coach Bill Self said matter-of-factly. "He was the best player in the game today, best rebounder."
That was both good and bad in Self's eyes.
"It's disappointing to me our bigs don't rebound the ball at all," the KU coach said. "Our big guys combined for about the same number of rebounds (13) as Marcus had (12) and played about twice as many minutes.... Our big guys have to rebound the ball and play better defense and hopefully we'll get them to do that."
Garrett's big night, in which he played just eight first half minutes but managed to have eight rebounds at the break, had his teammates excited about his immediate future.
"He's playing great," senior point guard Devonte' Graham said of the freshman. "Both games he played great. He's just got a good feel on defense. He knows the right spots to be in and he keeps his space offensively, he's a willing passer and then he can score."
Garrett started the second half in place of Malik Newman (13 points, five rebounds, four assists), but Self said that was merely in an effort to reach his goal of playing everybody roughly the same number of minutes.
While the Jayhawks seemed to have their best quarter after halftime in Game 1, their best on Thursday might have come right out of the gate. Behind deep jumpers from Graham and Lagerald Vick, the Jayhawks raced out to a 28-9 lead and never looked back. KU led 52-26 at halftime and enjoyed a 36-point lead at one point. In a game defined by big runs and spurts of conditioning paying off for the visitors, the Jayhawks ripped off three separate double-digit point stretches without giving up a single point — 20-0, 10-0 and 10-0.
"All in all, it wasn't bad," Self said. "I say I'm disappointed in the guys kind of understanding how to play. We just kind of overpowered them so we were able to get away with a lot of gambling and stuff like that that you can't do against good teams."
Graham finished with 11 points, five rebounds and five assists and did most of his damage early.
"I'm just trying to set the tone," he said of quick starts in both Italian exhibition games so far. "I know they'll follow me if I come out and play hard, get after it defensively and just run the team. I'm not out here trying to hunt shots. I'm trying to get everybody confident and getting filled in with the system. So I'm really just out there trying to make plays for others and let the young guys get comfortable."
Garrett said Graham passed on nearly those exact same words to him before the game and he was appreciative of the veteran's guidance.
"Devonte' told me to just play and my defense turned into offense and I started to feel way better," Garrett said. "I felt like I could've done much better. On offense, I think I should be in attack mode more and I could've played defense better."
Spoken like any wise freshman, Garrett said he believed his most important contribution this season would be not to go get his but in making sure his teammates get theirs.
"I see my role as picking up our best players, getting Devonte', Lagerald, Malik and Svi (Mykhailiuk) time off on defense," Garrett said. "I can come in and get those guys open shots. I know they can shoot and if I see them open I'm gonna make sure they get the ball."
The Jayhawks are off on Friday, when they will travel to Milan by train before finishing off the exhibition tour with games Saturday and Sunday in Milan.