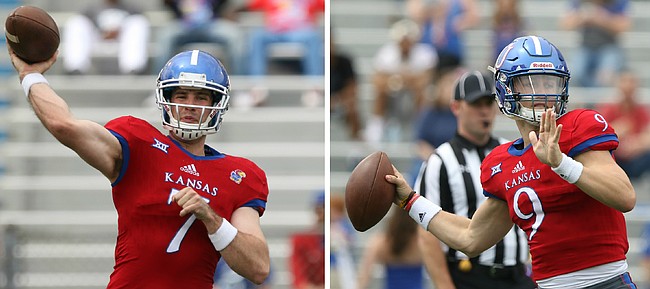 Peyton Bender and Carter Stanley take the fun out of what could be a percolating quarterback controversy because they're good friends, roommates even.
The coaches take the edge off of it by pointing out that in today's world, thanks in part to closer attention paid to head injuries, nearly every team needs two quarterbacks to get through a season anyway. And they're right.
Sadly, we can't call the Bender-Stanley competition a controversy. Bummer.
Oh well, it still offers the thrill of trying to guess which one will stand in the shotgun for the opening offensive play of the 2017 football season.
To the best of my knowledge, Las Vegas doesn't offer a Bender-Stanley proposition so there is no way to wager legally and officially, so spare the flight and make the wager with Monopoly money. I'll set the fake odds by making Bender a 5-to-2 favorite to get the first start of the season.
Bender, a fourth-year junior who has played at Washington State and Itawamba Community College in Mississippi, and Stanley, a third-year sophomore who has played only at Kansas, both played high school football in the state of Florida. And they both have played a version of the Air Raid since their high school days. They are not far apart in size, Stanley having an inch and six pounds on Bender, who is 6-foot-1, 190 pounds.
Other than that, they have more differences than similarities.
As uncertainty swirls around the right-tackle spot, the question of whether the quarterbacks will have ample time to find receivers and avoid getting planted on the turf lurks like a massive, dark-gray cloud threatening to dump on the cautious optimism for a Kansas offense that has been in torpor for the past seven years.
In the event the pass protection breaks down, Bender and Stanley have different means of surviving. Bender uses his quick release, Stanley his quick feet.
First-year Kansas offensive coordinator/receivers coach Doug Meacham is in his 12th season as a Big 12 offensive assistant coach. So when he talks football, he tends to reference Big 12 names, which is nice.
Meacham's first season at TCU coincided with quarterback Trevone Boykin's emergence as a Heisman Trophy contender.
"Trevone was an athlete guy who could run around and you could do a few things with him that way," Meacham said. "Carter Stanley has a hint of that whereas Bender might be more of a traditional (former Texas Tech quarterback) Graham Harrell type."
Beaty offered interesting insights recently on the skills Stanley and Bender use to counter pressure.
"Carter's athletic and he was able to elude some things," Beaty said. "He can extend plays on his own. . . . That's what you look for. You look for a guy who can do some things on his own because it's very rarely the way we teach it: Taking a three-stop drop, set there, everything looks pretty and good, you throw it. It doesn't work like that very often. There are a lot of mean dudes running at you."
Making "mean dudes" miss by running away from them isn't the only way to thwart them.
Bender's not a runner, so it's his blink-and-you-missed-it release that puts pass-rushers into lousy moods.
"You heard our guys talk a little bit earlier about how quickly they got the ball out at Texas Tech, well, that frustrates a guy like Dorance Armstrong because he can't get to the quarterback because the ball's out so quick," Beaty said. "The thing when you watch Peyton, he is protecting himself because his release is so quick that most guys would get hit and he gets it off clean. Most guys are going to get it off, but they're going to get hit at the final motion and that affects the accuracy."
Since the day Bender signed with Kansas, Beaty has talked about how Bender is anything but "most guys" in terms of his release.
"This kid gets it off so dad-gum quick and he finishes the motion so quick that he protects himself," Beaty said. "Being able to sit behind him this year in (spring) practice was really fun to watch because you see the value of that kind of a release."
Linebacker Joe Dineen played safety and quarterback for Free State High, so he knows a little about the qualities that make a successful QB.
Dineen shared what he liked about each teammate.
"Carter's thing is he'll expand plays. The pressure from Dorance (Armstrong) and Daniel (Wise) will get to him and he'll roll out and make a play," Dineen said. "That's what I like about Carter: He's fast and athletic."
And Bender?
"The thing about Peyton is he can sling it and he's easily the most accurate passer I've seen," Dineen said. "He can just sit back there and pick you apart. If he has time, which I think he will, he'll make some things happen. I'm excited to see how camp goes."
Naturally, Dineen was careful not to sound as if he favored one QB over the other.
"Both those guys can get it done," Dineen said. "Whatever coach Beaty decides, I think they both can get it done. Carter showed he can win a game (against Texas) and he competed. And Peyton, throughout spring, had a great spring."
The competition is far from over, but if Bender is as accurate as Dineen says, he'll be difficult to beat out.