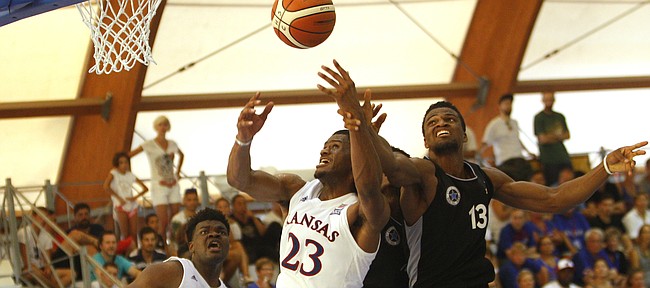 Rome — Freshman Billy Preston joined Udoka Azubuike, Devonte' Graham, Malik Newman and Lagerald Vick in the starting lineup during the Jayhawks' 90-56 exhibition victory over Stella Azzurra / HSC Roma at Happy Sport City gymnasium in southwest Rome on Wednesday night. And, according to Kansas coach Bill Self, did so with good reason.
"He's actually deserved to start," Self of Preston, who finished with 10 points and four rebounds in 12 minutes. "Mitch (Lightfoot) missed a couple of practices because of his (broken) nose and Billy's talented. He doesn't know what he's doing yet, but he's talented and if he can ever figure it out he's gonna be a really good player."
Preston, who played his best in the game's early minutes, was aggressive early on and played with poise throughout his time on the floor. Midway through the game, team doctors took a peek at the freshman's right leg and Self said after the game that all was well in that department.
"He strained his knee the other day," Self said. "Structurally he's fine but it's a little sore. Hopefully he'll be OK to go (in Game 2 Thursday)."
As for the other newcomers and young players, Self said they, too, were "fine," but added that they might not see it that way.
"Newcomers, they don't quite get it yet," Self said. "They'll pout up because they didn't play well and stuff like that but they'll figure it out. You kind of have to go through some of that stuff."
Welcome back, Svi
Back with his team for just the second day in weeks, Kansas senior Svi Mykhailiuk enjoyed a smooth welcome back party on Wednesday night.
Coming off the bench for the Jayhawks, Mykhailiuk finished with eight points on 4-of-5 shooting in 11 minutes, with the only miss coming from 3-point range.
"This was pretty much his first game and he looked like he just fit in right away," sophomore center Udoka Azubuike said of Mykhailiuk's return. "It was real impressive and I'm glad he's back for us."
The 7-foot center was far from the only person in crimson and blue happy to have the young Ukrainian back. After spending the past several weeks playing with his countrymen in international play, Mykhailiuk said he was thrilled to be around Jayhawks again.
"I missed my guys a lot and it was just kind of like come out here and play and enjoy the game," Mykhailiuk said. "It's been great. I missed everybody. We've got a lot of new guys (but) I know the system."
Although there were mistakes and some sloppy moments, Mykhailiuk gave his team a passing grade for its first time playing together.
"I think it was good," he said. "We worked real hard, we haven't been practicing a lot, and for the first time it was good."
M-V-P, M-V-P
After the game, before the two teams came together for a postgame photo at mid-court, event officials named a most valuable player and for each team and a most valuable coach.
KU senior Devonte' Graham (14 points on 4-of-7 shooting in 20 minutes) was named KU's top performer and Self earned coach of the game honors. Both awards came with a small trophy, giving Graham one in his pursuit of former teammate Frank Mason's senior season record.
Asked how it felt to bring home the top coach honor, Self, who will be inducted into the basketball Hall of Fame next month, joked around a little.
"It felt good," he said. "It was in doubt early, but Devonte' and Malik (Newman) made enough shots to ice that victory."
Good eats
With two days in Rome in the bag, Self was ready to declare what many who visit the city hope to say when they depart.
"I had the best pizza I've ever had in my entire life," Self marveled. "I went with sausage and spicy salami. I learned that if you order pepperoni here all you get is vegetables, peppers. So I was told to make sure you get the spicy salami and it was good."
This and that...
Temperatures inside the HSC gym at game time were said to register as high as 92 degrees on Wednesday night, when the Jayhawks played in what looked like a practice bubble for an indoor football facility.... The Jayhawks shot 7-of-27 (25 percent) from 3-point range and were an equally cool 11-of-20 (55 percent) at the free throw line.... KU's largest lead of the game came at 77-32.... The Jayhawks also scored a a game-high 14 consecutive points to turn a 50-29 lead into a 64-29 run-away in a stretch spanning the end of the second quarter and start of the third.... The game was played with quarters because of international rules.