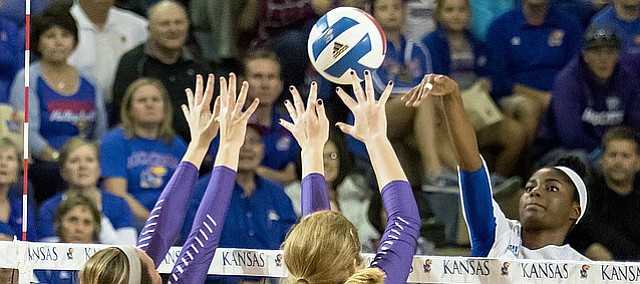 Kelsie Payne, a senior All-American, was named the preseason Big 12 Player of the Year for the second straight season on Wednesday, voted by the conference's coaches.
Payne was the first player in program history to win conference player of the year honors at the end of last season. The 6-foot-3 right side hitter led the Jayhawks with 418 kills on a .320 hit percentage. She added 209 digs, 103 blocks and 15 service aces.
Along with Payne, KU senior setter Ainise Havili and senior outside hitter Madison Rigdon were unanimous picks for the preseason all-Big 12 team.
Havili registered 1,210 assists last season with 324 digs and 52 blocks on her way to third-team All-American honors. Rigdon had 399 kills on a .228 hit percentage with 259 digs and a team-best 54 service aces.
"These awards are great sign of the respect that Kelsie, Ainise and Madison have earned around the league," KU coach Ray Bechard said. "At the same time, we are not going to be complacent because we are a veteran team. We have had some great moments in the last couple years, but we want the best moments to be still ahead of them."
Preseason All-Big 12 team
Katie Staiger, Baylor*
Jess Schaben, Iowa State
Ainise Havili, Kansas*
Kelsie Payne, Kansas*
Madison Rigdon, Kansas*
Bryna Vogel, Kansas State
Madison Drescher, Oklahoma
Anna Walsh, TCU
Ebony Nwanebu, Texas*
Chaika Ogbogu, Texas
Micaya White, Texas*
Reyn Akiu, Texas Tech
Payton Caffrey, West Virginia
(*unanimous)
Big 12 preseason volleyball awards
Player of the Year: Kelsie Payne, Kansas
Freshman of the Year: Lexi Sun, Texas