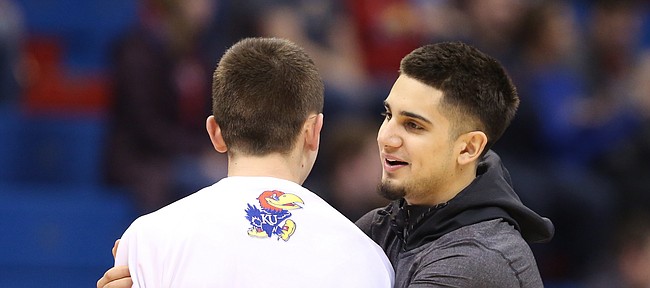 Kansas coach Bill Self confirmed to the Journal-World that transfers Sam Cunliffe, Dedric Lawson, K.J. Lawson and Charlie Moore will be eligible to play with the Jayhawks during this summer's trip to Italy.
KU, which will travel abroad for a four-game exhibition stint in early August, will play two games in Rome and two games in Milan and will be allowed to practice both leading up to the trip and during the trip.
Self said all four newcomers were eligible to participate in practices and games. But don't be surprised if their minutes are limited given the fact that only Cunliffe is eligible to play during the 2017-18 season and only during the second semester at that.
These trips, generally speaking, are designed to develop chemistry with the current group, which means KU will get a great opportunity to put the ball in senior-to-be Devonte' Graham's hands as he takes over the point guard position from Frank Mason III.
Another player who figures to benefit a great deal from this summer's exhibition tour is 7-foot center Udoka Azubuike, who missed most of the 2016-17 season with a wrist injury.
Self recently told the Journal-World that Azubuike rounding into better shape and developing some stamina would be key for the young Nigerian center heading into the 2017-18 season.
"I will tell you this, he's done more running and conditioning since he's been hurt than he ever did before he was hurt," Self said. "(Strength coach Andrea) Hudy's done a good job with him. His body looks good. He's gotta get in shape. There's no doubt about that. You know, he's never gonna be a guy to play 35 minutes, but I would think he'll be in good enough shape to where, if he can stay out of foul trouble, he could play 25 to 30."
Pritchard promoted?
Larry Bird's decision to step down as president of the Indiana Pacers — first reported Friday by Adrian Wojnarowski of The Vertical — has opened the door for a former Jayhawk to take over.
According to reports, Kevin Pritchard, who joined the franchise in 2011 and has served as the team's general manager since the summer of 2012, would be next in line to take over as Indiana's top front office executive.
Pritchard, a starting guard on the 1988 national championship team, served as the general manager of the Portland Trail Blazers from 2007-10 and became infamous for selecting Ohio State big man Greg Oden with the No. 1 pick in the 2007 NBA Draft, ahead of Kevin Durant, who was taken second.
Largely due to injuries, Oden went on to have a disappointing three-year NBA career while Durant became one of the best players in the world.
Juiston picks UNLV
Former KU target Shakur Juiston, a power forward from Hutchinson Community College, announced this week that he was headed to UNLV.
Juiston, who once was viewed as a big time target for the Jayhawks, appeared to blaze a new path shortly after Kansas landed Memphis transfers Dedric and K.J. Lawson, both forwards around the same size who will be eligible for the 2018-19 season, which would be Juiston's senior year.
In addition to his contact with Kansas, Juiston took an official visit to Iowa State before ultimately deciding to head to Las Vegas, where he will be joined by McDonald's All-American and 6-foot-11 center Brandon McCoy, the No. 11 ranked player in the 2017 class.