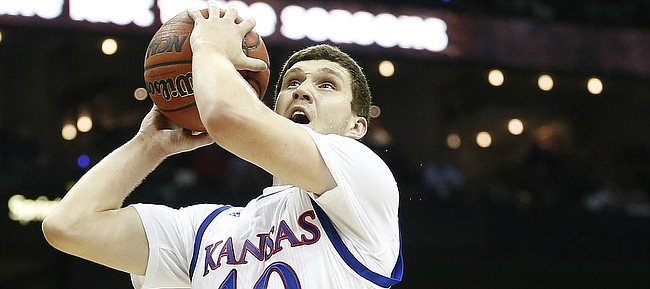 Kansas junior Svi Mykhailiuk recently received word that he had been invited to participate in this year's NBA combine, May 9-14 in Chicago.
The news, which KU coach Bill Self said was expected, is merely the next step in Mykhailiuk's quest to gather information about his stock and status for this summer's NBA Draft, June 22 in New York.
Self told the Journal-World earlier this week that Mykhailiuk had gone through the steps with the underclassman pre-draft advisory committee and gained valuable information from that.
While Mykhailiuk has spent most of the past month working out in preparation for his NBA workouts, the next step is to meet with and compete in front of actual NBA scouts and general managers at the combine to see if the information he received from the pre-draft advisory committee either holds up or changes.
Self said the opportunity to talk directly with NBA GMs would be the biggest advantage for Mykhailiuk at the combine but he also will be able to battle with other draft hopefuls in live-game settings and a variety of skill-related drills.
Mykhailiuk still has not hired an agent, which keeps open the possibility of him returning to Kansas for his senior season.
He will have 10 days from the end of the combine to decide whether to pull his name out of the draft pool and return to school or stay in and leave early, which puts the next date to watch for significant news in Mykhailiuk's draft-testing process in the May 15-24 range.
Josh Jackson and Frank Mason III, two former Jayhawks who definitely will be staying in the draft, also received invitations to this year's combine in Chicago.
Mason, whose national-player-of-the-year season sent him surging up draft boards from not listed to late second-round, seems to be the biggest winner of the KU trio. The opportunity for Mason to show his skills, work ethic and attitude to the entire league gives him a much better chance of getting drafted.
Jackson, meanwhile, remains locked in as a projected Top 3 pick and, with an impressive combine showing, still could be in play for the No. 1 overall selection.