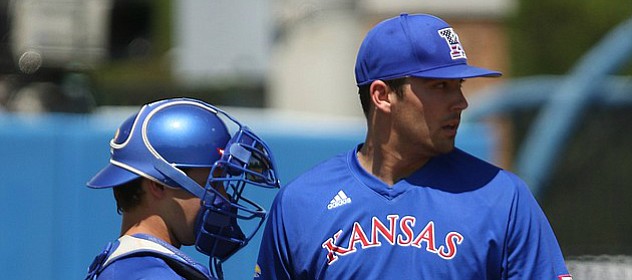 Of all days for the forecast to call for 60 percent chance of rain, today would not be the first choice of anybody familiar with the University of Kansas baseball team.
Any day that Jackson Goddard is scheduled to pitch for the Jayhawks projects as a good one and those days fall every week on Saturday, the middle day of three-game Big 12 series.
Plus, given the mounting buzz born of his recent dominance, a sunny forecast might have resulted in Goddard drawing a big crowd to Hoglund Ballpark for the game against Baylor scheduled for 2 p.m.
Power pitchers sell tickets. So do statements about power pitchers, such as the ones that came out of Kansas baseball coach Ritch Price's mouth Thursday before practice.
"Right now, he's as dominant as anybody in the country," Price said of Goddard.
Outrageous statement? Not considering the outrageous numbers Goddard posted in his past two starts, both against schools from his home state.
A sophomore from Tulsa, Goddard combined to throw 13 innings against Oklahoma State at Hoglund and Oklahoma in Norman. He walked two, struck out 20 and allowed three earned runs. Kansas is 4-1 in his Big 12 starts.
"(TCU coach) Jim Schlossnagle told me he's the best guy he's seen all year," Price said.
Schlossnagle tried to get Goddard to TCU, but by accident, the roots of the right-handers history with Kansas stretched a little deeper.
Goddard made his first visit to Lawrence during the summer after his sophomore year in high school.
"I had a pretty busy baseball schedule, had one free weekend and there happened to be a camp up at KU so I went, at the time kind of for the hell of it, but then I ended up throwing well," Goddard said. "They ended up seeing me and liking me, so that's kind of where the recruiting process started."
Season-ending injuries to pitchers forced Price to put Goddard in the weekend rotation as a freshman, before he was ready. Goddard pitched himself out of the rotation. In the summer, he ditched a circle changeup he used to try to fade away from left-handers, and picked up a changeup he lodges between his index and middle fingers. It has more of a north-south action to it.
"I think the big key for me is probably my changeup," Goddard said. "I still have work to do on my slider, but my changeup is in a good spot right now."
Pitching for a small school in high school, Goddard seldom faced stiff competition and didn't need to do much other than blow fastballs by hitters to dominate.
"But here the guys are on time for the most part on the fastball, so you have to add other stuff to get some deception," Goddard said.
He gets as big a charge when a hitter is way out in front of a changeup as when he's late on a fastball and so does his coach.
"The hitter's reading fastball out of the hand and that changeup can be just lethal," Price said.
Two Saturdays ago, Goddard threw 101 pitches, and according to Price, none of his 67 fastballs were clocked at slower than 92 mph and he reached as high as 96.
"To go 100 pitches and not drop (velocity) is really impressive," Price said. "I haven't seen that very often in my career. And he's still getting better. Now the whole thing is he's got to do it multiple weeks in a row. That's the final step in his development, not to have two good weeks then an off week."
If Goddard stays healthy and continues on his rapid development curve, his Kansas career won't extend past his junior season.
"He's got a chance to go first, second round," Price said. "I wouldn't say that if it wasn't true. His potential's off the charts."
As is typical of freshmen, Goddard tended to give too much credit to hitters, too little to own his abilities.
"He's getting to the point where he's starting to understand how good his stuff is, how explosive his arm and body are," pitching coach Ryan Graves said. "He got to the point where he finally just said you know what I'm going to go for it and pitching on the white of the plate instead of trying to pitch on the black right at the bottom, and when he's going good and pitching free, it's hard, it's 93, 94, so it's not easy to hit."
Who knows? Maybe the sun will crack through the clouds at just the right time for Goddard to draw a crowd today and send hitters back to the dugout shaking their heads.