Kansas senior Chase Hanna left himself a brutal up-and-down to save par from behind the 18th green at Prairie Dunes in the final round Wednesday in the Big 12 men's golf championship.
He gave himself a chance by excuting the first half of the challenge, chipping to 12 feet.
"This is my 15th, 16th year coaching and I was thinking there's no player I'd rather have try to make make a putt," KU associate head coach Chris Wilson said. "No way. He's the guy I'd pick all day."
A cold, 20 mph wind added a wrinkle to reading the putt.
Hanna drained it to finish his round at even-par 70, not too shabby considering he was 4-over par with six holes remaining.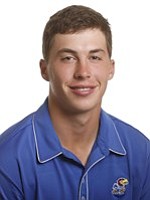 Roughly an hour later, Scottie Scheffler of Texas needed a par on 18 to tie Hanna. Scheffler missed a similar putt to the one Hanna had, made bogey and tied teammate Doug Ghim for second.
Hanna became KU's first Big 12 champion since the late Slade Adams shared the title in 1995 and KU's first outright individual champion since Matt Gogel in 1991.
"He's one of those guys, he can smell the finish line," Kansas golf coach Jamie Bermel said.
Hanna buried a 25-foot, downhill putt on No. 13 to start a string of four birdies in a five-hole stretch.
After finishing, Hanna hung out in the clubhouse with family and teammates and followed live-scoring updates on his phone, then watched Scheffler play No. 18 in person.
"It was out of my control at that point," Hanna said. Hanna is unusual in that his parents, William and Tanya, are not golfers. Tanya's father, Jerry Eads, who first put a golf club in Chase's hands, was in Hutchinson to watch his grandson become a Big 12 champion.
Kansas contended for the team title as well, finishing third with a four-day total of 1,168 strokes, four shots behind champion Texas and three strokes behind runner-up Oklahoma State.
Bermel has a team full of grinders and their third-place finish was the best for Kansas since 2000.
Daniel Sutton tied for ninth. First-round leader Daniel Hudson tied for 13th. Charlie Hillier tied for 25th and Andy Spencer tied for 31st.
After shooting 78 in the first round under brutal conditions, Hanna was tied for 18th. He was 1-under in the final three rounds.
"I knew there was a lot of golf left to be played," Hanna said. "I didn't feel like I shot myself out of it."
He steadily shot himself back in it and won it with his putter.
"He's a great putter," Bermel said. "I've seen him make putts on the 18th hole a lot of times."