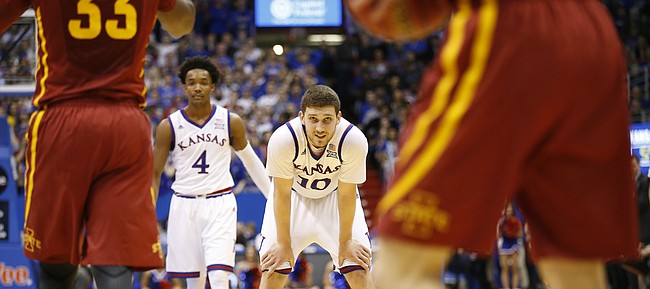 It's been known for a couple of weeks now that Kansas junior Svi Mykhailiuk is putting his NBA stock to the test by declaring for this summer's draft and going through workouts designed to give him enough feedback to make an informed decision about whether to stay in the draft or return to school.
Mykhailiuk will do so without hiring an agent, leaving open the possibility for him to return to Kansas for his senior season.
So how then, without someone working on his behalf, does a player like Mykhailiuk get in touch with the right people to get the information he needs and desires to make a sound decision?
Kansas coach Bill Self explained the process to the Journal-World this week, and, not surprisingly, he plays a pretty important role.
"I'll do it primarily," said Self of reaching out to NBA coaches, scouts and general managers to help Mykhailiuk. "But what we're trying to do right now is find out if he'll be invited to the combine."
If he is, the draft showcase scheduled for May 9-14 in Chicago will be all of the exposure Mykhailiuk needs, as multiple representatives from all 30 teams will be on hand to watch workouts, interview players and put them through medical exams in preparation for the June draft.
Although the underclassmen who have declared have until May 24 to decide about their futures, last Sunday marked the early entry deadline, meaning more information about the combine should be forthcoming.
"By the 26th or 27th or 28th I believe they're supposed to have the initial invites to the combine out," Self said. "We're all hopeful that he gets an invite to that, and if he doesn't then, of course, we'll visit again and evaluate it and see where he's at. But right now all indications say that he will probably be invited to the combine. If that's the case, we'll start visiting with general managers. But the reality of it is, basically, if you go to the combine, you're going to visit with them yourself."
Up to this point, Mykhailiuk has focused primarily on preparation for the upcoming combine. At 6-foot-8 with guard skills and a solid shooting touch, there's a lot for NBA folks to like about Mykhailiuk.
Perhaps most notable among them is his age.
Despite being on the brink of completing his junior year of college, the Ukrainian is still just 19. That appeals to NBA decision-makers much in the same way that drafting players straight out of high school or after one year of college does. But the advantage that Mykhailiuk has over those prospects is the three years of coaching from Self, dozens of games against competition at the major college level and career's worth of work in the weight room.
"I think the help we can give him is more initially, to determine whether or not you should declare," Self said. "And he made that determination that he wanted to and then after the combine you get really accurate information about where they see him on their boards. Right now, we've gone through the underclassman pre-draft advisory committee. We know how people see him through that. But, really, we're gonna have to wait until the combine to really determine if they see him in a different light than what he's already been told."