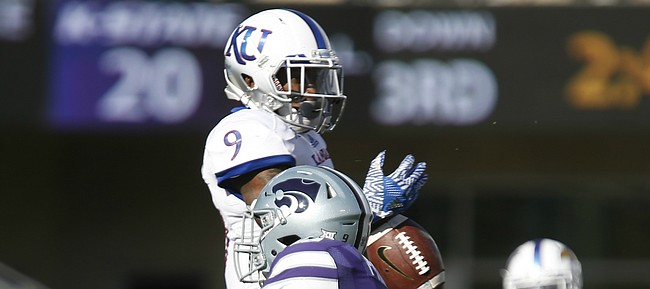 Regardless of how this weekend plays out for NFL Draft hopeful Fish Smithson, the three-year University of Kansas safety will go back to a lesson passed on to him from a couple of men who know more than most about making it as a defensive back at football's highest level.
"It's not about how you start. It's about how you finish. So don't really worry about it," Smithson said recently of some pre-draft wisdom he picked up from former KU standouts Aqib Talib and Chris Harris Jr.
Smithson met up with the Denver Broncos' two starting cornerbacks back in January, when they were in Orlando, Fla., preparing for their appearances in the Pro Bowl and Smithson was training in hopes of joining them one day in the NFL.
"They just kept me level-headed and I got two different perspectives," Smithson explained. "Talking to Aqib, he was telling me about his journey as a first-rounder and top pick (20th overall, in 2008). And then Chris Harris' journey being a free agent — no combine invite, none of that. And now they're both having very successful careers and making a living."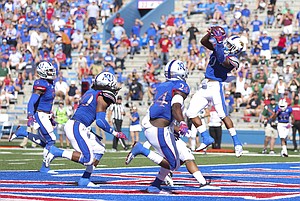 A 5-foot-10, 201-pound safety, Smithson won't go early in the NFL's seven-round, made-for-TV extravaganza, which kicks off Thursday night with first-round selections. But Smithson hopes if he isn't selected by the end of Round 7 on Saturday he can sign as a free agent with some organization, following the path of former KU players Harris, Seattle safety Bradley McDougald and Pittsburgh linebacker Steven Johnson.
Although Smithson didn't receive an invite to the NFL Scouting Combine, CBSsports.com projects the Baltimore native as a seventh-round choice or free agent and the 14th-best free safety available. NFL.com doesn't split up safety prospects by "free" or "strong," and ranks Smithson as the No. 26 player at safety, with a grade of 5.05 on a scale of 1 to 10. The site characterizes a prospect in the range of 5.01 to 5.14 as a "back end of the roster" player.
Ahead of what could be a life-changing weekend, Smithson said he doesn't pay much attention to mock drafts or projections, but admitted he inevitably hears the details.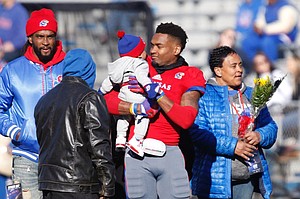 "I've got a lot of cousins and a lot of friends. They'll send me a snap. ... My little brother called me and he was like, 'You going to the Eagles.' I kind of just laughed, because he's so young he don't know how the process goes," Smithson said. "I kind of keep my mind away from that. I don't really look at that, but I know my family, they're gonna look at that. It's just natural. They're talking about it, they want to see it."
At KU's pro day in mid-March, Smithson bench-pressed 225 pounds 17 times, leapt to a vertical of 36.5 inches, made a broad jump of 9 feet, 4 inches and ran his 40-yard dash in 4.51 seconds. Afterward, the All-Big 12 safety spoke at length with scouts and assistants from a handful of NFL teams. The man who totaled 204 tackles over the past two seasons for the Jayhawks said those conversations covered everything from defensive assignments, formations, personnel, what player he's most like and other topics. Smithson took it all at the time as a positive sign.
When his college career ended this past November, Smithson began preparing for the draft by training with Tom Shaw and his staff in Orlando, where Smithson worked on his body, weight, speed and position work at the same facilities as Dallas' Dak Prescott, Tampa Bay's Jameis Winston, and various others.
"Just learning how to be a pro," Smithson said of the positives of that experience. "That's another thing. There's more than training. You've gotta get down there and you've gotta get around guys that are in the NFL and going through the same process."
The KU safety who broke up seven passes, made four interceptions and registered 93 total tackles as a senior in 2016 can't predict how the next few days will go, as he plans to watch the draft in Lawrence with some of his college teammates. But given Smithson's preparation and the knowledge gleaned from Talib and Harris, he at least feels as prepared as possible for the unknown of it all.
"If I'm blessed to get an opportunity, I'm gonna make the most of it," Smithson said. "But I'm not gonna put too much of it on the actual selection and stuff like that."