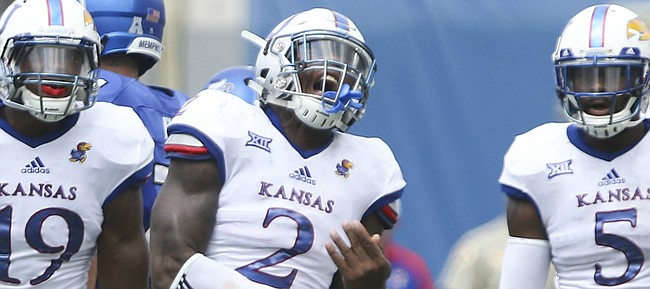 The Big 12 is no place to break in a defensive backfield, but in years that it's necessary, it helps to have a disruptive pass rush, and Kansas is certain to have that.
Four of the five starters in the secondary must be replaced, including Fish Smithson, the team's leader in tackles and interceptions. The good news: The defensive line might be the best in the Big 12.
Predictions for KU's defense in 2017:
Tackles: At least on paper, Kansas shapes up as having strong depth at defensive tackle, where it's essential to have two platoons because such large men need relief. If the D-tackles can occupy blockers, making life easier on the linebackers, then Joe Dineen should have no problem leading the team in tackles, provided he stays healthy. The issue then becomes making those tackles closer to the line of scrimmage by doing a better job of shedding blockers sooner. Dineen has beefed up to 230 pounds without losing speed, so the extra strength should help. If too many plays get past the first two levels of the defense, Mike Lee will lead the team in tackles.
Prediction: Dineen (106).
2016 leader: Smithson (93).
Sacks: Kansas hasn't had a player since Aqib Talib, who projects as well to the NFL as Dorance Armstrong, first-team All-American candidate. Offenses will game plan to try to stop Armstrong from keeping the quarterback in escape mode. They might succeed in slowing him down at times, but he's too fast, too strong, too driven to be held down all game. He grows stronger every year without losing speed, loves to play football and shows a far nastier side during games than the gentleman who handles interviews during the week and after games.
Prediction: Armstrong (12.5).
2016 leader: Armstrong (10).
Interceptions: This prediction always is a crap shoot because so many factors come into play. If someone quickly develops into the best cornerback for Kansas, then the opposite corner could get targeted. And with so many balls thrown his way, he could become the one who picks off the most passes simply because of the volume of opportunities. Or it could be a safety with a nose for the football. Hasan Defense looked like the best cornerback during spring football. Safety Tyrone Miller had a strong spring that quieted concerns created when he fell into a sophomore slump. Lee certainly has a nose for the ball, so although he had just one interception, in overtime against Texas, it was the program's biggest in years.
Prediction: Lee (4).
2016 leader: Smithson (4).
More like this story on KUsports.com