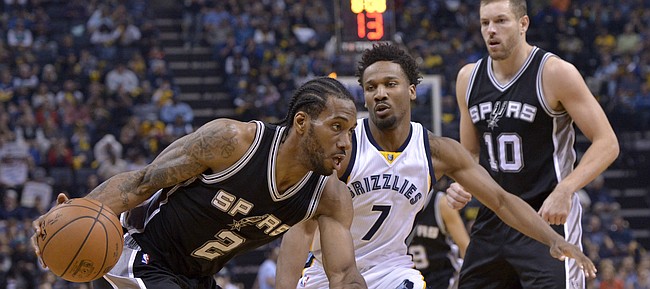 During his three seasons at Kansas, Wayne Selden had a tendency to play his biggest games on the biggest stages.
The Memphis Grizzlies rookie is now doing the same thing in the NBA.
Despite playing in just 11 games with the Grizzlies during the 82-game regular season, the undrafted former Jayhawk has been a big and bright surprise for the Grizzlies during the playoffs, averaging 22 minutes a game and making two starts during Memphis' best-of-seven, first-round series with second-seeded San Antonio, which is tied at 2-2 and continues with Game 5 at 8 tonight.
In those four playoff games Selden is shooting just 27 percent from the floor and 18 percent from 3-point range.
"Isn't it amazing?" KU coach Bill Self told the Journal-World on Monday afternoon. "He's not scoring but he's playing because he's guarding and they trust him and that's hard to believe in the playoffs for a rookie."
Busy with running and recruiting for his own program, Self has done his best to watch as much of Selden's postseason success as possible. Although very little of what he's seen has come as a surprise, the KU coach has marveled at Selden's emergence from an uphill climb since his departure from KU.
"He's had an up-and-down rookie season," Self said of the Roxbury, Mass., native, who was among KU's leading scorers during all three of his seasons in Lawrence. "Last year he didn't really get a chance to go through the combine because of health and the next thing you know he stays in there, gets called up and shows enough with New Orleans to have Memphis pick him up. Who'd have thought a guy who didn't play in the NBA through February of his rookie year would be starting in the playoffs, a part-time starter averaging 20-plus minutes and doing very, very well."
Although Selden's shooting numbers have left more than a little to be desired, a few of the shots he has made have drawn more than a little attention.
"His bounce has always been good," Self said. "But he looks, to me, like he's moving good."
A couple of monster dunks from the former Jayhawk have made SportsCenter and dominated the Internet, causing fans of the Grizzlies and Jayhawks to rejoice over the unexpected impact of the new kid who has received his chance to shine because of an injury to Memphis veteran Tony Allen.
"It's just been awesome," Self said. "It just goes to show you perseverance does prevail.... We're all very excited for him and happy for him, but certainly we felt all along that he's capable of making an impact."
The way Self sees it, the best part about Selden's big postseason, no matter when it ends, is what it might lead to, not just what it has done to put him on the NBA map.
"The way he's done it has probably helped him in ways that maybe a lot of people haven't been helped," Self said. "Because he'll be eligible to sign a pretty big contract this year."