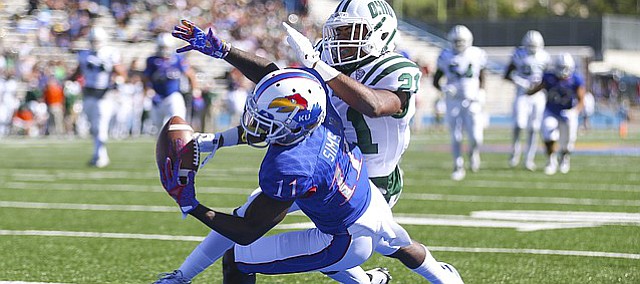 Now that spring football has ended for Kansas, it no longer is too early to take a guess at statistical leaders in various categories. Predicted statistical leaders for the 2017 Kansas offense:
Passing yards: The competition between newcomer Peyton Bender and late-season incumbent Carter Stanley spilled into the spring and both quarterbacks made progress. Still, Bender's quicker release, such an important factor in a Big 12 conference packed with speedy linebackers, safeties and cornerbacks who can make windows shut in a hurry, gives him the edge, even though Stanley brings the option of designed quarterback run plays.
2016 leader: Montell Cozart (1,075 yards).
Prediction: Bender.
Predicted yards: 3,008 yards.
Touchdown passes: Outside receivers Daylon Charlot, Steven Sims and Chase Harrell and inside targets LaQuvionte Gonzalez and Ryan Schadler all have the speed to break big plays and Bender has the arm to strike long, provided the blocks allow time for vertical plays to develop.
Prediction: Bender (22).
2016 leader: Cozart (seven).
Rushing yards: This makes for the toughest prediction on the board. More than ever, thanks to ever-improving methods of detecting concussions, depth is a must at running back and the Jayhawks have it.
Freshman Dominic Williams, a shifty four-star prospect from Frisco, Texas, and four-star juco transfer Octavius Matthews join returning backs Taylor Martin and Khalil Herbert, so speed in the backfield isn't a problem.
2017 prediction: Dominic Williams (672).
2016 leader: Ke'aun Kinner (738).
Rushing touchdowns: Martin and Matthews not only have speed that comes in handy in making people miss, they have size. They both weigh 200 pounds, so they're capable of scoring on breakaways and in short-yardage situations.
2017 prediction: Matthews (six).
2016 leader: Martin (four).
Receptions: Sims is the best route runner, the team's most proven, experienced receiver and has sure hands and explosive speed.
2017 prediction: Steven Sims (70).
2016 leader: Sims (72).
Receiving yards: Look for KU to hit on more long passes because the offense will have more accurate long passes, greater depth of fast receivers and offensive coordinator Doug Meecham will call it more often to keep the defense honest.
2017 prediction: Steven Sims: (1,111).
2016 leader: Sims (859).
Touchdown receptions: Charlot attacks the ball aggressively, knows how to make catches in crowds and has the speed to pop big plays.
2017 prediction: Charlot (nine).
2016 leader: Sims (seven).