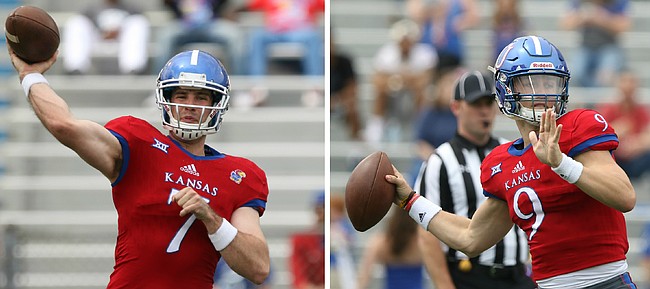 Spring football came and went at the University of Kansas without Peyton Bender or Carter Stanley wowing head coach David Beaty to the point of naming a starting quarterback for the 2017 season.
As anticipated, the race to become the Jayhawks' No. 1 QB won't draw to a close until at least August. Had one candidate dominated and the other floundered, Beaty, offensive coordinator Doug Meacham and quarterbacks coach Garrett Riley could have reached a verdict.
Instead, Bender and Stanley enter the next portion of the offseason still aiming to overtake the other.
All of which is absolutely fine with Meacham.
"I think competition breeds a better, maybe more expedited player — a guy who can learn quicker because there's pressure there to do well," the first-year coordinator said recently, while discussing the QB battle. "And that's what you want. You can go out and practice all day long, but when there's really something on the line or you create some anxiety somehow or another, and if that's through competition that's what you want, because it simulates pressure and game-like situations."
Bender, a 6-foot-1 junior who previously ran similar versions of the Air Raid offense at Washington State and Itawamba Community College (Miss.), had a more productive spring game than Stanley, the 6-2 redshirt sophomore, who started the final three games for KU in 2016.
The new QB on campus, Bender completed 11 of 15 throws for 143 yards and two touchdowns. The incumbent, Stanley went 13-for-24 for 114 yards without a TD.
Days ahead of the scrimmage, Meacham indicated how much weight he would give any numbers from that setting: "You don't even really count the spring game, because it's more or less just recess."
The real clashes in the ongoing battle to reach the top of the depth chart happened during closed practices, where KU coaches aimed to put the pair of quarterbacks in far more taxing situations.
On those occasions, Beaty witnessed promising characteristics from both.
"Peyton has a poise about him that I really like," the third-year KU head coach said. "I saw it on the tape when we were recruiting him, watching him play in junior college, watching him play when he was at Washington State, when he played against Washington. He's got little bit of a poise to him that's pretty unique that I like."
As often is the case when Beaty gets going on the topic of Kansas quarterbacks, the coach quickly followed one assessment with praise for another QB.
"And Carter's kind of the same way," he added. "They kind of get lost in their own world out there and they get focused, which is something we've enjoyed from both those guys."
The spring proved far too early for the Jayhawks to land on a starting quarterback for September and beyond. But Meacham thinks that will prove to be the best-possible outcome for either Bender or Stanley.
"I think if one guy is named starter right now he potentially could become complacent, and you're not maximizing his ability," KU's new offensive coordinator said. "I think by doing this you're going to be able to maximize both of those guys' ability and have a true assessment of who the best one is."