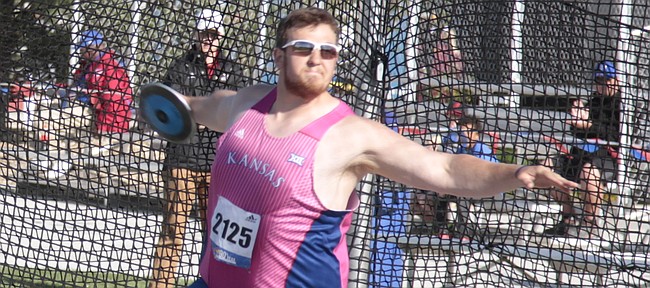 The No. 12-ranked University of Kansas men's track and field team got the chance to prove itself to the Jayhawk faithful this weekend at the KU Relays at Rock Chalk Park.
The Jayhawks won 10 different events en route to a first-place finish in the scored invitational, which included Southern Illinois, California and UMKC. Kansas scored 231 points, while SIU came in second at 157.
"It's just nice being here. We've got great conditions," senior thrower Mitch Cooper said. "We've got really good officials. It's just a nice atmosphere to throw."
After Cooper finished second to KU freshman Gleb Dudarev in the hammer throw on Friday, the KU throwers picked up right where they left off as the meet wrapped up on Saturday. Cooper and Nicolai Ceban went one-two in the discus with respective best throws of 61.77 and 59.58 meters. Cooper broke the school record in the discus last year with a heave of 62.56 meters, and was pleased with having three throws of 60-plus meters on Saturday.
"I think that's one of the best parts of our throws squad is our competitiveness in all things," the Queensland, Australia native said. "We all push each other in the weight room in fitness and plyometrics, and out throwing on the field. I think that's what makes everyone better is being competitive and being friends. We're all best mates, and we just want each other to do better."
The competitiveness in the Jayhawks was apparent on the track as well. Quentin Dancer paced the Jayhawks in the sprints by taking first in the 100-and 200-meter dashes, and Cody Johnson (400-meter hurdles), Jacob Morgan (5,000 meters) and Bryce Hoppel (800 meters) won their respective individual events. The Jayhawks finished off the meet with a bang, as Ivan Henry, Jaron Hartley, Isaish Cole and Tre Daniels won the 4x400-meter relay.
The combo of Hussain Alhizam and Jake Albright posted a one-two finish in the pole vault, and Barden Adams rounded out the Jayhawks' team victory with a win in the triple jump.
"It's just nice being here. We've got great conditions. We've got really good officials. It's just a nice atmosphere to throw," Cooper said.
KU women finish second
The Kansas women's squad scored 181.5 points to claim a second-place finish scored invitational quad. The Jayhawks finished 14 points behind Minnesota, while SIU and California placed third and fourth, respectively.
The Jayhawks had two individual champions on the track in Whitney Adams (800 meters) and Courtney Coppinger (3,000-meter steeplechase), and two more in the field between Laura Taylor (pole vault) and Shaylyn Stallbaumer (javelin).
The KU women's 4x400-meter relay matched the Jayhawk men with a first-place finish, as Adams, Mariah Kuykendoll, Nicole Montgomery and Adrianna Newell took gold.
Stigler wins 400 hurdles
After clocking in at 50.98 seconds in the preliminaries of the 400-meter hurdles of the Kansas Relays on Friday at Rock Chalk Park, KU alumnus Michael Stigler set the goal of running 49.5 or better in Saturday's final heat.
The 2015 national champion did that and then some, as he crossed the finish line in 49.38 to win the event by more than three seconds.
"To be honest, the plan coming in was to kind of use the back stretch," Stigler said. "We knew we had the wind into our face coming home."
Stigler is coming off of a right hamstring pull that occurred while doing a workout at Rock Chalk Park about a week before the Olympic Trials last summer. The former Kansas standout was sidelined for two months before he started training again.
While Stigler felt that he was at his best before the injury, he changed up his training regimen during his road to recovery.
"I trained with (Kansas) coach (Stanley) Redwine and the distance group all of the fall and then switched over with (sprints/hurdles assistant) coach (Elisha) Brewer to start putting speed back together. I'm still trying to get my speed back under me," Stigler said. "I'm strong from coach Redwine and getting the speed from coach Brewer — something I've never done. It's going to be something special when it all comes together."
Stigler has enjoyed remaining close to his former team and coaches over the past few months, and has now ran at back-to-back meets that the Jayhawks have been at. The 400-meter hurdle specialist clocked in at 50.2 at the Sun Angel Classic in Tempe, Ariz., so he felt like his improvement on Saturday was a great sign heading into Drake Relays next weekend.
"I needed this. Just a little bit more confidence getting ready and going into next week because next week is a different level of competition. Coming here running 49.3 with the wind — considering how Drake's weather typical is — I'm excited."
While Stigler called the hamstring injury "the hardest thing I've ever had to deal with in my life " after Friday's prelims, he insisted that it is benefiting him in the long run. Stigler has developed into a student of the event, and referenced 1976 and 1984 Olympic gold medalist Edwin Moses as a person that he's tried to pattern himself after.
"In terms of my development, I'm on the right track. I still have a lot to learn — getting my step pattern down, which is something we're focusing on a lot this year because sometimes in races I'll be a little bit inconsistent of how I run the first part," Stigler said. "My finish will always take care of itself. I'm getting it down. I've just been a student of my event. I'm watching more film — not just of myself, but all the greats that have come before me. I'm looking to kick down the door so I can make the (United States Olympic) team."
With the next Summer Olympics not coming up until 2020, Stigler has his mind set first and foremost on the IAAF World Championships in August in London.
"That is the main goal," Stigler said. "That is the only thing that is on my mind. Everything up until then is preparation."