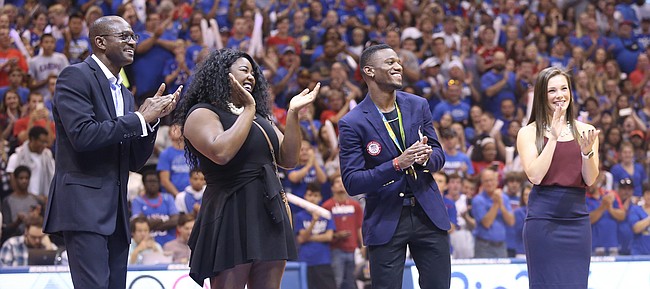 Andrea Geubelle's appearance in the Rio Olympics last summer was, in every way, supposed to be one of the greatest experiences of her life.
And, for the most part, it was — while she was there. From the surreal joy of drinking in the opening and closing ceremonies to the competition itself in which she finished 21st in the 37-woman field, Geubelle spent most of her time in Brazil with her eyes plastered open and a smile stuck on her face.
It was a dream come true for the University Place, Wash., native and put her at the absolute pinnacle of her chosen profession.
But then the Olympics ended and Geubelle, the former Kansas national champion and one of the school's most popular track and field athletes of the past couple of decades returned to the United States with a different hue.
No longer was she just Andrea Geubelle the dynamic jumper with the infectious smile and sparkling personality. Instead, she was Andrea Geubelle the Olympian. And that, according to Geubelle, who, naturally, won the women's triple jump at the 90th annual Kansas Relays over the weekend, carried with it an entirely different vibe.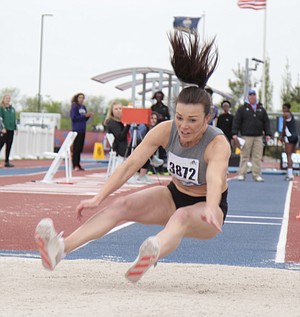 "Coming off the Olympic year, mentally it was difficult," she said. "I struggled with whether this was even for me anymore. I kind of did what I set my goals to be, but I really want to make an Olympic final. I want to make a World Championship team."
Armed with those feats as her newest goals, Geubelle did what she had to do to get her mind right. While a large part of her efforts were done on the track and in the weight room, Geubelle put in work away from the sport, as well, visiting a sports psychologist to help her learn how to cope with her new existence.
"This early in the season, you're not jumping," Geubelle explained of the reality of her sport, which relies on incremental gains and plenty of patience rather than all-out, all-you've-got each time you jump. "People say Olympian and everybody's like 'Oh my gosh,' and is expecting to see 47 feet. And then my first meets I'm going from short approach and I'm jumping 43, 44 feet and everybody's like, 'What is she doing?'
"In my head, I'm right where I'm supposed to be, but that got to me a lot just because I'm a competitor and I like to put on a show. So when I can't, I get kind of sad."
Perfectly illustrating that point, Geubelle, whose personal-best is 46 feet, 11 inches, jumped 45-5 to win the Kansas Relays. It was her best jump of the season and put her right on — if not ahead of — pace for what she hopes will be a big year that ends with a spot on the U.S. World Championships team. But it would not have wowed crowds anywhere other than Lawrence.
In fact, her winning jump over the weekend was actually seven-hundredths shy of her best jump at the Olympics and more than two feet shy of the defending Olympic gold medalist.
But, again, it was exactly the kind of jump Geubelle was looking for at exactly the kind of meet she needed to get her head fully on track again.
"Contributing to a team was probably the reason I did so well when I was at KU," Geubelle said. "So going to that individual realm has been kind of a difficult transition for me.... I don't think I've had a crowd clap for me since I came back from the Olympics just because I've been like, 'I don't want you guys watching me. I don't know what I can do yet.' But I feel like I'm getting back to myself."
Part of the transformation back into the fierce competitor those closest to her know Geubelle to be will require a shift in her approach. When you're trying to make an Olympic team and trying to advance at the Olympics themselves, athletes tend to look at marks near the bottom of the range of success, hoping simply to get in rather than gunning for the top. Geubelle knows that. And she's done with setting her sights low.
"Being competitive again is a big thing," she said. "Every coach that I've been with is like, 'That's what's made you great. You hate to lose.' And I kind of got in this, 'Oh I should be second or I should be third,' mentality and I'm getting back to saying, 'I will win. Whatever it takes.'
"I don't think I've really seen what I can do yet. (Since turning pro) I (haven't been) 100 percent and I kind of want to be back to where I was around my senior year in college and I want it to be fun again. That was the hard part. It's not fun when there's pressure and there's money being dangled in front of your face, but it's fun when you come out here and the crowd's cheering for you and no matter what you do, they're pumped and they're amazed. I needed this meet. I needed that."