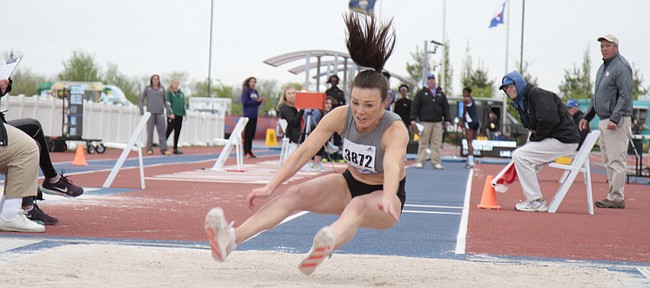 After competing in the qualifying round of the women's triple jump at the 2016 Rio Olympic Games, University of Kansas alumna Andrea Geubelle has had some time to reflect on the road that led to that opportunity.
Geubelle, who was a three-time NCAA champion during her time at Kansas, has not forgotten her roots. The Olympian returned to Lawrence on Friday for the 90th annual Kansas Relays, and won the triple jump in the college/open division with a mark of 13.73 meters (45 feet).
"It's incredible. I haven't been back to The Relays since I finished college," Geubelle said. "Then I got injured and with it being an Olympic year, our schedule is different. When I saw it this year, I was like, 'I got to do it. I've got to get back to my home turf.' We were coming out here just to see what I could do at the beginning of the season, and it was just kind of one of those feel-good meets and it did just that. I got everything out of it that I wanted."
Geubelle's best attempt tied her for the seventh best mark in the world in 2017, and was also a season-best. The Washington native was not fazed by the blustery conditions, and actually felt that they were an upgrade from what she had been training in.
"We've had pretty terrible weather in Washington, so this is actually great. Even though it's windy, it's not raining," Geubelle said. "We've just been working through things and kind of getting technique down. It's a long season.
"We see it in (Michael) Stigler. We see it in all of our Olympians that are coming back that it's early in the year. Like I said, it's kind of a feel-good meet — kind of come out, hopefully put on some sort of show for the crowd and give people from around here the opportunity to watch."
Along with receiving several rounds of applause from the Rock Chalk Park faithful, Geubelle enjoyed the chance to catch up with some of her former teammates and coaches. Geubelle still remains close with Kansas assistant coach Wayne Pate, who she gave a lot of credit for the accolades she has received after leaving Kansas.
"There is absolutely no way I would be where I was without my time at KU. Coach Pate, I was just talking to him. (He is) one of the most incredible coaches I've ever worked with," Geubelle said. "He was like a father figure to me when I was out here just because my family was all back in Washington. To even just have him in the stands and just be able to talk to him before meets and kind of getting back into that routine of college when I was competing for the university, that's when it's honestly fun.
"Being a professional is great, but my greatest years were contributing to this university. So to be back at it and be surrounded by people like (Michael) Stigler, Mason Finley — all of these alumni — it feels pretty good to be back home."
Finley put on a show of his own while defending his KU Relays men's discus title. The 2016 Olympian broke his own meet record with a heave of 64.67 meters (212 feet, 2 inches). Finley also inserted himself into the world rankings, as his top throw was the sixth best so far this year.
While Finley and Geubelle got their taste of the Olympics in 2016, Stigler — the 2015 NCAA 400-meter hurdles champion — missed out on his chance last summer due to a hamstring injury. Stigler won the 400-meter hurdles prelims with a time of 50.98. Although the time was more than two seconds off of his personal-best, feeling 100 percent is the most important thing to Stigler.
"It feels good to be back here, but it feels great to be healthy. I'm just hoping to come up here and get my rhythm back down, get back into race mode competing again," Stigler said. "It's great to be out here. The fans are great. It's my home field. The fans love me; I love the fans."
The former Jayhawk cleared hurdles with ease during his time at Kansas, but the hamstring injury served as an obstacle that was much more difficult for Stigler to overcome.
"I think it's been the hardest thing I've ever had to deal with in my life — just being so close to the trials and knowing that I had a shot at making the (United States Olympics) team was really devastating," Stigler said. "Literally you have to work harder than you did before just to get back to where you were at. During this whole process, it's taught me to be patient, trust my coaching and trust the process."
Stigler has a goal in mind of 49.5 seconds or better going into today's final heat, which is scheduled for 3:16 p.m.
Dudarev, Cooper kick-start Jayhawks in quad meet
Stigler, Finley and Geubelle have given the current athletes on the KU track and field team a glimpse of what is possible if they push themselves throughout their collegiate careers.
Kansas freshman Gleb Dudarev has been one of the headliners of the Jayhawks who hope to one day be at the level that Stigler, Finley and Geubelle are at. Dudarev was in top form again on Friday en route to a first-place finish in the hammer throw. The KU Relays marked only the second collegiate outdoor meet for Dudarev, but he already owns nine of the 10 best throws in program history.
Dudarev and senior Mitchell Cooper took first and second, respectively, with throws of 72.65 and 60.06 meters. The dynamic throwing duo combined for 16 points to put the Kansas men's team in first place in the scored invitational quad — which includes Southern Illinois, California and UMKC (men) and Minnesota (women). The KU women are in fourth place with two points.
The hammer throw was the only event for the scored invitational quad on Friday. The final 18 events will take place today. The women's shot put, men's discus and women's pole vault will kick things off at 4:30 p.m. for the field events, and the women's 3,000-meter steeplechase will get things started on the track.
Kansas Relays
Friday at Rock Chalk Park
Scored Invite: Kansas results
Men's team scores (through one event — hammer throw): 1. Kansas, 16; 2. Southern Illinois, 11; 3. California, 4; 4. UMKC, 3.
Hammer throw — 1. Gleb Dudarev, 72.65; 2. Mitchell Cooper, 60.06; 5. Brandon Lombardino, 53.26.
Women's team scores (through one event — hammer throw): 1. California, 13; 2. Southern Illinois, 12; 3. Minnesota, 9; 4. Kansas, 2.
Hammer throw — 11. Rachel Clowers, 36.03.
College/Open: Kansas men's results
110 hurdles prelims — 6. Christian Hicks, 14.76; 10. Nick Giusti, 14.86; 12. Cody Johnson, 15.02.
400 hurdles — 2. Alex Wilson, 53.14.
400 — 2. Marcus Davis, 47.73; 3. Strymar Livingston, 47.83; 24. Leon Cambridge, 52.35.
4x100 relay prelims — 3. Tre Daniels, Ivan Henry, Quentin Dancer, Jaron Hartley, 41.40.
4x400 relay prelims — 2. Marcus Davis, Matthew Aniywo, Nick Giusti, Bryce Hoppel, 3:15.69.
College/Open: Kansas women's results
100 hurdles prelims — 8. Gabrielle Dabney, 14.57.
200 prelims — 23. Jasmine Thomas, 26.77.
High jump — T-5. Caraline Slattery, 1.60 meters.
400 hurdles prelims — 22. Molly Dean, 1:06.71.
Distance medley relay — 1. Courtney Coppinger, Whitney Adams, Riley Cooney, Lauren Harrell, 12:04.95.
400 prelims — 3. Megan Linder, 56.03; 4. Omawumi Omare, 56.63; 5. Adriana Newell, 56.84; 7. Zantori Dickerson, 57.47.
4x100 relay prelims — 1. Jedah Caldwell, Nicole Montgomery, Tianna Valentine, Sydney Conley, 46.61.
4x400 relay prelims — 3. Chloe Akin-Otiko, Zantori Dickerson, Omawumi Omare, Megan Linder, 3:46.75.