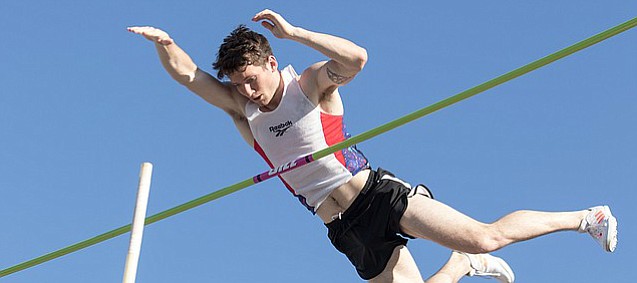 At the conclusion of the second-annual Kansas Relays Street Pole Vault, Nick Meyer immediately made his way over to a large group of family and friends in the stands.

"I'm lucky to have my dad here for this meet," Meyer said. "He's always busy; he's always doing stuff so he doesn't make it to every meet. Just having him here, and having friends and other family be able to come up is special."
Meyer only participated in the event because he's currently in the middle of a redshirt season at Kansas. His goals weren't lofty, as he hoped to find a good rhythm and look for consistency. But he still wanted to be sure to perform well to show his family and friends how hard he's worked.
When Meyer cleared the bar at 18 feet, he did much more than that. It clinched first place for Meyer in the men's division held in front of the Salty Iguana near the corner of Sixth and Wakarusa, which took place in front of a rowdy crowd Thursday evening.
"This is definitely a really fun atmosphere and different from your regular track meet," Meyer said. "The key to coming and being successful at a street vault, in my opinion, is just to relax and just enjoy it. That's what it's all about, especially here. It's all about the atmosphere."
Meyer, whose career accomplishments include a 13th-place finish and a clearance of 17-4.5 feet at the NCAA Championships in 2015 and All-America Second team honors, enjoyed the opportunity to be able to compete at a high level during his redshirt season, something that isn't common in other collegiate sports.
"I think that's one of the things that makes track special," Meyer said. "Obviously with football and basketball you can't compete (during a redshirt season), there's nothing like this in those major sports. Track is just a different breed and it's awesome."
The event featured five other professional track and field athletes, including Mark Hollis and Jack Whitt, who competed collegiately at Olivet Nazarene and Oral Roberts, respectively, and tied for second in the event last year. The street vault also featured former Kansas track and field standout Alex Bishop, who was a two-time second team All-American and claimed the 2013 Big 12 championship.
But Meyer still emerged victorious, giving him hope for a potential professional career of his own.
"Track and field is hard to go to the next level in, and that's something I hope I can do," Meyer said. "I'm still chasing these guys."
Kristen Hixson outlasted the competition on the women's side, clearing 15 feet, 0.25 inches to place first. Hixson, who is a three-time Div. II champion and claimed ninth at last year's U.S. Olympic Team Trials, topped a loaded field headlined by Joana Coasta, who took 29th last summer in the Rio Olympics and Mary Saxer, who was the 2014 U.S. Indoor Champion.
Hixson credited her confidence for the win, which she said was a product of being able to relax and have fun with the support of the crowd.
"There's not a lot of track of track meets that are this hype about it," Hixson said. "There's more serious meets, there's more fun meets, and this was a good mix of both. You want to take it really serious and you want to jump high but gosh it was just a lot of fun doing it."
More like this story on KUsports.com