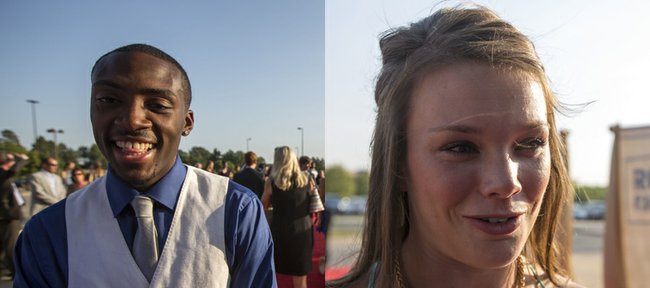 The 90th Kansas Relays get underway today at Rock Chalk Park when the starter's gun for the 100-meters portion of the decathlon blasts at 10 a.m., the beginning of four days of track and field, the biggest events scheduled for Friday and Saturday.
Naturally, rain and strong winds are in the forecast for Friday and Saturday.
Weather forecasters don't always get it right, so here is a guide to a few of the week's more interesting possibilities, with the understanding that times can change and competitors can scratch:
Thursday, 5:30 p.m.: Street pole vault exhibition takes place in parking lot of Salty Iguana, southwest corner of Sixth and Wakarusa.
Five men and five women, all professionals, will participate in a team competition, with one man and one woman forming a team, their combined clearance determining the winner.
Alex Bishop, a two-time, second-team All-American when competing for Kansas, Mark Hollis, twice the USA champion and Augusto Dutra, a 2016 Olympian for Brazil will compete. Joana Costa, also an Olympian representing Brazil in 2016, and 2014 U.S. indoor champion Mary Saxer, are among the women vaulting.
Friday, 1 p.m.: Andrea Geubelle. Dynamic 2016 Olympian triple-jumper said on her Facebook page that she is "ready to put on a show" and is "excited to be back in the land of the Jayhawks!"
She's an amazing competitor well worth watching.
Friday, 6 p.m.: Downtown Shot Put. Reigning Olympic gold medalist Ryan Crouser highlights another stacked field that includes defending Downtown Shot Put champion Tim Nedow of Canada. Bringing the event from the infield of a track to downtown has turned the most distant, ignored event into the most intimate, exciting one of the week.
Saturday, 3:16 p.m.: Michael Stigler. The Kansas graduate and 2015 NCAA champion in the 400-meter hurdles, scratched with an injury from the 2016 Olympic trials.
Saturday, 4:30-9 p.m.: Five-school invitational featuring Kansas, California, Minnesota, Southern Illinois and UMKC. The Kansas men are ranked No. 12 in the nation, the only ranked program among the 10 men's and women's teams.