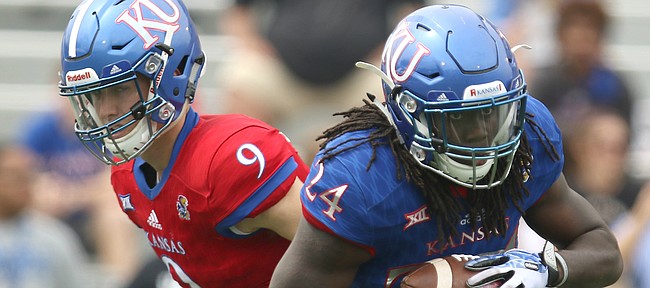 Although this past Saturday's spring game served as the mark-your-calendar and tell-your-friends date for Kansas football players, it didn't double as the conclusion of the Jayhawks' offseason schedule.
KU's coaches still had two more sessions on the docket this week to both build off what players accomplished at the scrimmage and/or address issues that remained as the Jayhawks near the spring ball finish line.
Asked immediately following the weekend showcase for his thoughts on the play of potential starting quarterbacks Peyton Bender and Carter Stanley, head coach David Beaty said he looked forward to reviewing video footage for a full assessment. The same could be said for all the position coaches, with Tuesday and Thursday practices left for further assessments and repetitions.
The university's athletics and school calendars shape when the football team can start and finish its 15-practice spring. The fun couldn't begin for Beaty's program until the conclusion of KU's indoor track season. Spring break came soon after, and with it a hiatus from work. And the April 15 spring game date couldn't be pushed back a week, because the Kansas Relays are this weekend.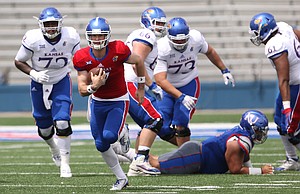 It all worked out fairly well for KU's football players and coaches, though. Associate head coach Tony Hull said practicing twice more after the spring game had its advantages. Hull thought it was "huge" to be able to evaluate and address what staff members learned.
"We kind of put them under the lights and got to see how they would do in game-like situations and we've got it on film," Hull said Saturday. "We'll be able to go take a look at it, make some corrections and come out (this) week and try and implement those corrections on the field."
By all accounts, Bender and Stanley have gone back and forth all spring, matching performances and trying to out-do the other for the No. 1 spot on the depth chart. Bender, who went 11-for-15 on his spring game throws, for 143 yards and two touchdowns, liked that he and Stanley could continue working and competing this week.
"We're just going to view (the spring game) as another practice and we'll go back and review the film. There's plenty of stuff that we need to work on, stuff we didn't do right (Saturday)," Bender said. "But, you know, there's a lot of positives that came out of the scrimmage, and we've just got to continue to get more consistent, continue watching film and get better at what we can."
Podcast episode
Kansas football beat writer Benton Smith joins Matt Tait to discuss what the 2017 Kansas football spring game taught us about David Beaty's Jayhawks.
Stanley — 13-for-24, 114 yards, no touchdowns — didn't quite match Bender's passing numbers in the exhibition. But the redshirt sophomore rushed for gains of six, eight and 11 yards and Stanley's team finished with five more first downs and 77 more yards than Bender's (aided by a 64-yard, second-quarter TD drive with Tyriek Starks in for Stanley at QB).
Beaty brought up a few of the quarterback observations he, offensive coordinator Doug Meacham and quarterbacks coach Garrett Riley would address heading over the final week of practice.
"There was a couple times where I thought their eyes were in the wrong place early, but they kind of seemed to iron that out," Beaty began. "I thought the defense did a good job of disguising (Saturday) for the most part, which they needed to, because if you don't, it's going to be hard to stop folks. They did a good job of that, and I thought they got the QB's early, but I thought they settled down a little bit later and were able to make some good decisions, particularly on some off-slant plays."
Stanley completed third-down passes to Jeremiah Booker, Chase Harrell and Ben Johnson to extend drives in the scrimmage. When Bender was on the field, his team's only first down on third-down calls came via a Khalil Herbert rush in the first quarter.
On Bender's second- and fourth-quarter scoring drives with receivers Steven Sims Jr., Daylon Charlot and Ryan Schadler, they never faced a third down.
"Those guys continue to get better," Beaty said of Stanley and Bender. "They continue to push each other."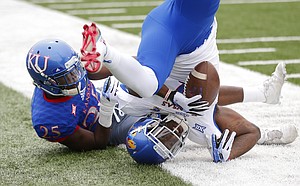 Expected to be a marquee target for whichever QB goes on to win the battle, sophomore receiver Charlot hopes to finish the spring strong by learning from his three-catch, 45-yard spring game, which included an acrobatic snag along a sideline and a TD he fought for in the end zone.
"I'm just going to take advantage of those two practices," said the 6-foot sophomore, Charlot, "and clean up my mistakes from this game."
Hull said the former Alabama receiver has shown flashes of his skill all spring as Charlot adapts to playing in an Air Raid system.
"Yeah, I mean, he's coming from a different style of offense, and he's still learning intricacies of playing the receiver position. However, I mean, as you can tell, he's a playmaker," Hull said. "He's just continuing to get better and better day in and day out, and once he thoroughly understands what's going on, you'd better watch out."