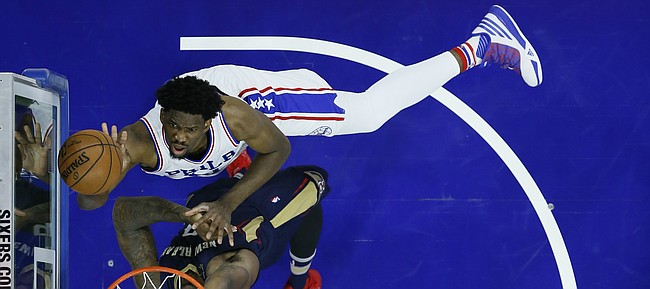 Sixteen Jayhawks finished the season on NBA rosters and six are competing in the playoffs. Frank Mason III hopes to get drafted.
Sviatoslav Mykhailiuk has made himself eligible without selecting an agent, which means he can return to school if he doesn't like the opinions he hears about where he might go in the draft.
Josh Jackson is one of a handful of freshmen who has a shot at going first in the NBA draft, although he hasn't officially declared.
For the purpose of this exercise, let's assume Svi returns to school and Jackson declares for the draft. Nick Collison and Paul Pierce are on their way out of the league, so we won't include them. Now, rank the 16 players, at this point in their careers, in the order you would select them in a draft without regard for team needs, based on what they can do in the future.
My draft board, with team and age of each player:
1 — Joel Embiid, Philadelphia, 22: If NBA teams were not concerned about back and foot injuries Embiid suffered in advance of the draft, he surely would have gone No. 1 after his one and only season at Kansas. He missed two full seasons because of the foot injury and didn't make his debut until this past season, when he was restricted from games played on back-to-back days to protect the foot. That and season-ending knee surgery limited him to 31 games. So the fears were justified, but even at that, I would take my chances and pick him first in this field because when he did play, he showed he's capable of taking a team all the way to an NBA title if enough talent joins him in Philadelphia.
Embiid averaged 20.2 points, 7.8 rebounds and 2.5 blocks in 25.4 minutes per game. He's 7-foot-2 with the quickness and skills of a guard. Sure, he's easily the biggest health risk on the board, but he's too talented to bypass.
2 — Josh Jackson, 20: Most intense competitor, best passer and top defender on the board. Knows where he's passing it before he catches it. He'll become an even bolder passer when teamed with players who have quicker reactions than some college teammates. A self-improvement fiend, he brings the sort of effort and charisma to change the culture of a losing team. He'll score plenty, but because of his effort on the boards and unselfish approach, the team will become better at scoring and preventing the other guys from scoring, which of course is what it's all about.
3 — Andrew Wiggins, Minnesota, 22: I thought about passing on him here and taking him fifth, but there's always a chance a coach at some point will stoke his pride in a way that makes him realize there is more to playing winning basketball than scoring. He has improved his 3-point shooting, making .356 this season after marks of .310 and .300, but other than that, how has he improved? He's figured out how to take more shots, so his scoring average has risen (16.9, 20.7, 23.6), but he doesn't defend as well as his remarkable athleticism indicates he should and his best rebounding season (4.6) came in his rookie season.
4 — Marcus Morris, Detroit, 27: Started all 79 games he played and averaged 32.5 minutes. His scoring average (14.0) was identical to his twin's. Had a 36-point game on Feb. 3 and a 37-point game on Feb. 28, which suggests that there is a scoring monster boiling inside, waiting to bust out when a team needs him to take on a bigger load. I have a feeling he still has untapped potential that in the long run will make him an even better pro than his brother, who was taken one spot ahead of him in the lottery. Does a little bit of everything and has a strong mid-range game that calls to mind forwards from a previous era.
5 — Markieff Morris, Washington, 27: Started all 76 games he played in and averaged 31.2 minutes per game. Versatile big man averaged 6.5 rebounds and 1.1 steals. Might be closer to his ceiling than his twin.
6 — Tarik Black, Lakers, 25: I want his positive personality and maximum effort on my team. Has figured out how to use his big body to become a valuable reserve for the Lakers. Averaged 5.7 points and 5.1 rebounds in 16.3 minutes and leaves bruises on opponents.
7 — Ben McLemore, Sacramento, 23: His minutes are heading in the wrong direction: 26.7, 32.6, 21.2, 19.3. Hasn't developed a feel for how to move without the ball and do other things that enable him to take advantage of his explosiveness and shooting touch. Not a terrific ballhandler, either. Maybe he needs to start over at a different organization. He did shoot a career-best .382 on 3-point shots, so that's heading in the right direction. His starting assignments have faded: 55, 82, 53, 26.
8 — Darrell Arthur, Denver, 28: His knees have taken a pounding over the years, stealing some of his remarkable athleticism. Never a great natural rebounder for his size, Arthur averaged just 2.7 rebounds in 15.6 minutes. He spends a lot of time on the perimeter and actually attempted more 3-pointers (117) than 2-pointers (98) this season. Knee problems limited him to 41 games. If he can get healthier, he still has the speed and shooting touch to become a valuable reserve. He shot .453 from 3-point range.
9 — Frank Mason III: He's all about maximizing opportunities in life, so the team that gives him a shot will watch him steadily improve and develop into a solid backup point guard.
10 — Wayne Selden, Memphis, 22: He has the build to withstand the physical brand of NBA basketball and the brain to figure out how to carve out a niche. Started and played 27 minutes in Grizzlies' playoff opener.
11 — Thomas Robinson, Lakers, 25: His spirit is willing, as evidenced by strong rebounding numbers, but in order to be a starting-caliber player at power forward, he needed to be a better defender and he doesn't seem to have that in him, although not for lack of effort. Averaged 5.0 points and 4.6 rebounds in 11.7 minutes.
12 — Cheick Diallo, New Orleans, 20: He's long, quick and active, which means he'll hustle his way to a lot of rebounds and block a shot every now and then. Averaged 5.1 points and 4.3 rebounds in 11.7 minutes in 17 games.
13 — Kelly Oubre, Washington, 21: Has the frame, but does he have the game? Made just .287 of his 3-point shots. He's too young to write off, but he'll need to show he's above average at one thing to have a long NBA career.
14 — Cole Aldrich, Minnesota, 28: He has shown that when needed to fill in for an injured center he can more than hold his own on the boards.
15 — Brandon Rush, Minnesota, 31: Great teammate who moves his feet well on defense and has a nice long-range shooting touch. Rush will never be a starter, but he blends so well that he'll have a much longer career than a malcontent of similar abilities would have had.
16 — Jeff Withey, Utah, 27: Thicker, broader bodies he must battle make it tough for him to establish position needed to rebound and become a disruptive defensive force.