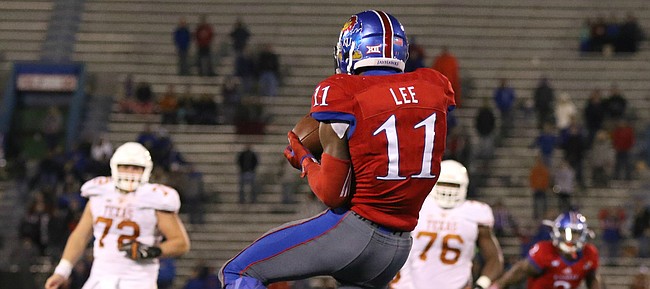 Alabama transfer Daylon Charlot made the prettiest play of the day, pulling a Peyton Bender pass out of the sky in traffic and keeping a foot inbounds for a 28-yard reception. The loudest moment came courtesy of none other than the Water Moccasin himself, rising sophomore safety Mike Lee.
The snake that inspired Lee's moniker, noted for its large triangular head and vicious, sudden strikes, might have developed hendecaphobia (the fear of the No. 11) if it had witnessed Saturday's spring football game between Kansas players in white uniforms and blue ones at Memorial Stadium.
Lee rocked teammate Ryan Schadler so hard that he gave him no shot at holding onto Peyton Bender's pass.
"When I hit him I heard everybody on my team saying, 'Yeah, Mike,' and I heard the fans going wild," Lee said. "I was like, 'You better get used to this.' "
He celebrated jarring his teammate with a high step and an air punch, making a clear statement that if he'll do that to one of his own guys, he won't hesitate to blast away against the enemy.
"After (Schadler) came back in he said, 'Dang, Mike, why you got to hit me like that?' I said, 'It's not my fault. Peyton's setting you up for to get killed like that.' He threw it too late," Lee said.
There is no convincing the Water Moccasin to make it hurt less, even in an intrasquad game.
"I don't know that you can tell him that," Kansas head coach David Beaty said. "One of the things I did tell him is: 'I want you to lead the conference in tackles, but I don't want you to lead the conference in missed tackles as well.' "
When the man with the ball makes turns, sometimes turning to keep up with him requires slowing down. That's the challenge for Lee, a pedal-to-the-metal native of New Orleans who graduated high school a year early to join Kansas in time for the 2016 season. Big 12 coaches voted him defensive freshman of the year and he was KU's defensive player of the game against Iowa State and Oklahoma. He also had the game-sealing interception and 12 tackles in KU's first victory against Texas since 1938.
"He throws everything he has in that 175-pound body at people, but we do have to learn to use more technique because I think it's going to culminate in a lot more tackles for him," Beaty said. "It may not be the highlight tackles that he loves to make, but he can be even better than he is. And he understands it. He gets it."
He gets it, but that doesn't mean it will be easy for him to tame the urge to go after the ball as if it's an unclaimed winning Powerball ticket. Lee not only enjoys making it sting, he relishes the echo.
"It can pump a team up, bring more energy to a team," Lee said. "Like Texas Tech, when I hit No. 27 (running back Demarcus Felton), it brought more energy to the team. That's when Dorance Armstrong got started. That's when our cornerbacks got started. That's when our front four got started. All off my tackle."
He didn't have any trouble identifying his biggest hit of last season.
"K-State running back (Alex Barnes) was running up the sideline, really I thought he was going to go out of bounds. He didn't," Lee said. "He just looked at me and dropped his shoulder and I was like, since he did, I'll bring all my might to him and see what happens. He was dazed up for a few plays, but he got back in the game. After the game he gave me a good compliment, asked me, 'Why I hit him that hard?' It's all in the game."
The Barnes tackle infused Lee with confidence.
"Big back, 230, I was 175," Lee said. "That was a difference-maker right there. All his strength and speed coming at me. I'm not really thinking I'm going to be run over. I'm just thinking I'll make the tackle, but I'll fall on my back. When I hit him and he flew out of bounds, I was like, 'Wow!' I hadn't really hit anybody like that since high school. In high school, when they'd see me they'd run out of bounds. It's just in me. I'm a true hitter."
Football is a vicious sport and also a game of clever footwork. Kansas receiver Steven Sims, armed with speed and savvy, used that blend to make Lee miss.
"I have to work on slowing down going against a guy like Steven Sims," Lee said. "He's got great feet."
Beaty referenced the same play.
"He missed a tackle down there on Steven Sims that I know he wished he could have had it back and they gave them a touchdown," Beaty said. "And it was just because he went in there out of control instead of using technique on him. But boy he's fun to watch out there unless you're the guy getting hit."
It was an exciting day for associate head coach Tony Hull, the former high school coach from his native New Orleans, not so much because the team he coached won, 14-7, but because Louisiana recruits showed well. Lee and Charlot made big plays, 6-foot-4, 320 pound sophomore Malik Clark showed improvement at right guard and third-string quarterback Tyriek Starks produced exciting moments.
Hull also had a role in motivating Lee, even though he didn't play for his team.
"Mike texted me while the draft was going on: 'Coach you didn't pick me. You're going to pay for it.' Every day, four or five times a day, he's been telling me I was going to pay for it," Hull said. "And he did make some big plays. . . . They call him Water Moccasion. I call him Earth Worm and he gets mad about that. "
Said Lee: "He was getting on my nerves calling me Earth Worm. It was getting in my head. I wanted to show coach Hull he should have picked me. That's OK. We're still family."
Family or not, if you're on the other side and you have or are about to take possession of the football, it pays to keep an eye out for No. 11 the way you keep an eye out for trains before crossing the tracks.