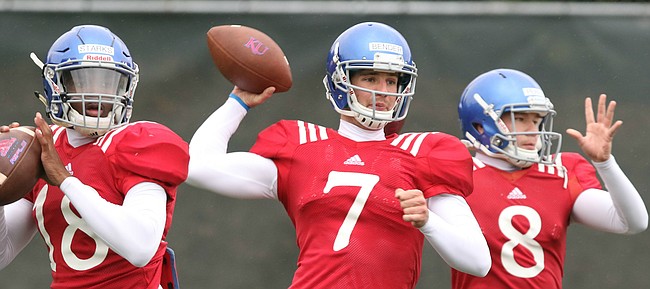 Generally, college football coaches downplay the significance of a spring game. It's no different than any of the numerous other offseason practices, they will tell you, with the players getting analyzed and coached up — same as a Tuesday afternoon on a field void of spectators.
The designated head coaches for the Kansas Jayhawks' intrasquad scrimmage would agree with all of that, too, but at least Tony Hull and Kenny Perry are making sure all involved thoroughly enjoy the experience.
Whether it was the mid-week player draft to determine rosters or the fact that Hull hails from Louisiana and Perry from Texas, the assistant coaches let their competitive sides and personalities loose when discussing Saturday's spring game at Memorial Stadium (1 p.m.).
Asked what he was most looking forward to observing during the fan-friendly affair, associate head coach and running backs coach Hull didn't reference X's or O's or position battles.
"The look on Kenny Perry's face when he loses," Hull responded, wearing a grin. "That's gonna make my whole spring and year. I hope you guys get some great pictures of his face when the clock hits zeroes so I can put it up on my wall and just be happy with that."
Hull's Team Jayhawks selected veteran receiver Steven Sims Jr., with its No. 1 overall pick in the spring game draft to pair with junior quarterback Peyton Bender, and the roster took on a first-team offense feel by the time all the players were split up. Tackles Hakeem Adeniji and Charles Baldwin ended up on Hull's squad, which will wear white uniforms, as did receivers Daylon Charlot, LaQuvionte Gonzalez and Ryan Schadler.
"He's really scared. He's really nervous," Hull said of Perry, coach of Team KU. "He knows the speed we have on the outside, and they just can't handle it, so we're OK."
Perry's team, which will wear blue and operate out of the palatial home locker room, went defense-first in the draft, though, and landed a trio of talented players with its first three choices: junior defensive linemen Dorance Armstrong Jr., and Daniel Wise, and sophomore safety Mike Lee.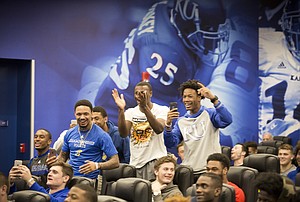 "I don't know that it's gonna be a shutout," Perry said, "but I sure like our chances."
Redshirt sophomore quarterback Carter Stanley will lead Perry's bunch on offense, and have junior running back Taylor Martin, senior tight end Ben Johnson and sophomore receiver Chase Harrell as some of his top targets.
Perry, who coaches KU's cornerbacks, said he didn't see any need to play favorites when putting together his team.
"I wasn't worried about guys' feelings or any of that stuff," Perry said. "I wanted to win, and I think we drafted the best situation we could to win."
The draft brought out the best in a couple of David Beaty's top assistants. Similarly, one of the program's marquee players, Team KU defensive tackle Wise, said the vibe should carry over to the festivities.
"Brings that excitement to the spring game, not just for us, but for the fans and recruitments and all that stuff. It's huge," Wise said. "It's a lot of fun. Instead of a lot of the old kind of boring way."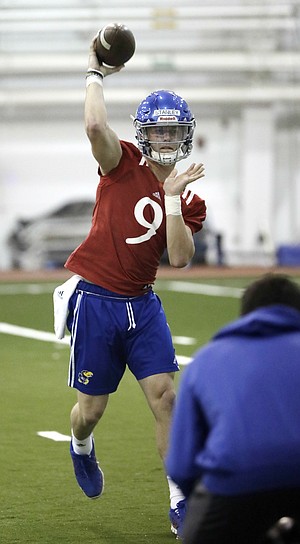 Most outside observers at the spring game, of course, will be locked in on quarterbacks Stanley and Bender, as they continue to battle for the top spot on the depth chart.
Bender, whose college career began with two seasons in Mike Leach's Washington State program, said he and Stanley help each other out in the quarterbacks room when they prepare for practices and go over footage, but each will gladly enter the next scrimmage ready to out-do the other.
"It has been a competition and actually being able to match up against one another on opposing teams, it should be fun to get that head-to-head competition in," Bender said. "I'm just going to go out there and try and control what I can do and the rest will play out."
Sounding like a more tempered version of one of the coaches, the program's newest QB said the outcome of the spring game — featuring four 15-minute quarters, with running clocks — mattered.
"You always want to win, so I can't lie," Bender said. "Yeah, I want to go out there and win it."