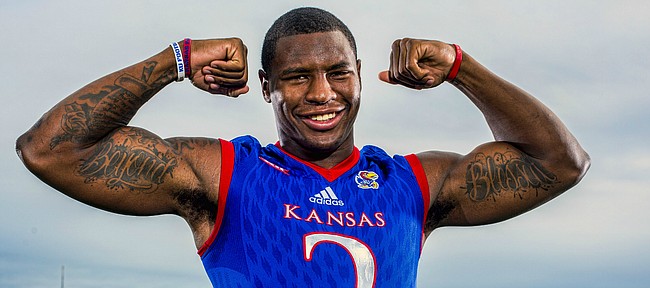 On his way to earning first-team All-Big 12 honors as a sophomore, Kansas defensive end Dorance Armstrong generated more NFL-prospect buzz than any Jayhawk since Aqib Talib — first-round draft choice of the Tampa Bay Buccaneers in 2008.
Talib and Chris Harris, who was labeled a non-prospect and not selected in the draft, earned first-team All-Pro honors for the Denver Broncos this past season. Nobody had to fear all the fanfare would give Harris a big head because he didn't get much of it until he reached the NFL.
Talib was a first-team All-American and Armstrong has the potential to become one.
Once a football player becomes aware of his pro potential, the attention can affect him in one of two ways. It can either make him think he has it licked already or it can make him lock in and work even harder.
KU defensive coordinator Clint Bowen coached both Talib and Armstrong when the honors started pouring in.
The two men share little in personality traits. Talib, loud, colorful and on the wild side, grew up in New Jersey and moved to Texas in high school. Armstrong, armed with a quiet charisma and a gentlemanly manner until he starts pummeling quarterbacks, came to Kansas from Houston.
Beneath the opposite exteriors lies a trait Bowen sees in both men: laser-focus at learning as much as possible about his position to gain an edge.
"Aqib is extremely smart," Bowen said. "He really is. Back then, the DBs (cornerbacks and safeties) all met together. Aqib would sit there and pretend like he's asleep. You'd be asking a safety a question, and Aqib didn't play safety, the safety would get it wrong, and Aqib would snap, "No, dammit! You have this (in that situation).' He knew everything. He knew what the linebackers were supposed to be doing.
"That sucker is smart. You talk about getting it? He was uncanny like that. And he would pretend he wasn't paying attention. You know how some people are just ultra-observant and notice everything? He was that guy."
Bowen also gives Armstrong high marks as a student of the game.
"Dorance, he's not an ego guy, he's not a this-is-about-me guy," Bowen said. "He truly has embraced trying to master his trade. He has a very level head on his shoulders."
Armstrong became KU's first unanimous first-team All-Big 12 selection after recording 10 sacks and 20 tackles for loss. He's aiming higher and, according to Bowen, going about it the right way.
"He knows he needs to be the best defensive end in all of college football," Bowen said. "Not just the University of Kansas. Not just the Big 12. He understands that there are guys at other major universities he is competing with to get to where he wants to get to in his life. And he has embraced that and worked extremely hard on developing his body and his game. He truly is one of those special guys who doesn't come around very often."
Armstrong's speed and long, strong arms give him a chance. His knowledge and quickness in applying what he knows allow him to use his physical gifts well enough to make life tough on blockers and quarterbacks.
Cerebral Kansas left tackle Hakeem Adeniji goes against Armstrong daily in practice. He did a nice job of explaining what makes his teammate such a beast.
"A lot of defensive ends have speed, but the way he's able to transition it into different moves without losing speed or power really just sets him apart," Adeniji said. "Most guys, they'll hit you with one move. He'll hit you with a move and he has a counter. There's no set way that you can block him. You always have to be on your toes because he can always pull something out of his bag."
Armstrong employed enough tricks to become the dominant force in KU's first victory against Texas since 1938. He liked the way that felt. He seems to thoroughly enjoy life as a Kansas football player. On the other hand, he will be eligible to enter his name in the NFL draft after his junior season.
"I'm not really thinking about that right now," said Armstrong, who has gone 2-22 two years into his career. "I want to actually experience what winning in college feels like. That's where I'm looking right now."
When he looks in the mirror, he sees the player most equipped to help Kansas do that, but he also sees a player driven to become so much better.
More like this story on KUsports.com