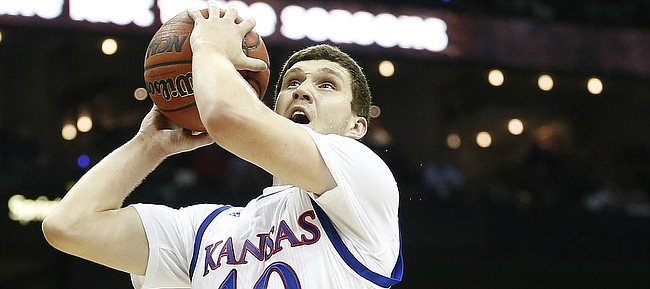 According to the Kansas basketball Twitter account, KU junior Svi Mykhailiuk has decided to enter the NBA Draft this season but will not hire an agent, leaving available the option to remove his name from consideration and return to school for his senior season.
That news was in line with the update KU coach Bill Self gave on Mykhailiuk's status following Tuesday night's team banquet and also consistent with what Self believed Mykhailiuk both would and should do.
"We support Svi 100 percent with his decision to test," Self said in a Wednesday press release. "I know he'll prepare very hard for it and after the combine, he'll get accurate feedback and make an informed decision which is what the rules are designed to do. In no way, shape or form is this a surprise. We expected this."
Mykhailiuk has until May 24 to pull his name out of the draft pool. Between now and then he is free to work out and talk with NBA representatives while also attending the NBA Combine May 9-14 in Chicago.
The recent rule change to this process gave Mykhailiuk the option to test the waters without committing to leaving school. Self has said since the rule was amended that nearly every junior even considering a professional career should take advantage of the new rules and it appears as if Mykhailiuk is doing that, gathering as much information as possible before making a definitive call on whether to stay or go.
"I do think the guys that test, they need to jump in head-first to try or they'll go and they'll look bad," Self said Tuesday.
Mykhailiuk, who started 25 games for the Jayhawks during the recently completed 31-5 season, revealed his path just three days after fellow-junior Devonte' Graham announced his intentions to return for his senior season without seeking NBA feedback. Self said Tuesday night that he was a little surprised Graham did not take the same route but added that he was more than happy to already know that Graham was returning.
Mykhailiuk averaged 9.8 points and 3.0 rebounds in 27.3 minutes per game in 2016-17 while shooting .398 from 3-point range on 176 attempts.
"Kansas has prepared me for this opportunity and after talking with Coach Self, my family and teammates, it is my plan to work hard and take my game to the next level," Mykhailiuk said. "I have matured a lot in my three seasons at KU as a player and a person, playing for great coaches and with great teammates, many who are in the NBA. I have got a lot stronger under coach (Andrea) Hudy and have improved my overall game every year. It's everyone's dream to play in the NBA and not going with an agent allows me to see where I stand after the combine and workouts."
As for where the Jayhawks go from here, with the program now having to wait at least a few weeks for more clarity on Mykhailiuk's future, Self said he and his staff would continue to hit the recruiting trail looking to add to their 2017 class.
"We've got one more to give on paper," Self said. "So at least one more depending on what decision guys make. So I would say at least one more."
According to Matt Scott, of TheShiver.com, KU assistant Jerrance Howard will be in East St. Louis, Ill., on Friday to visit Class of 2017 big man Jeremiah Tilmon, a 6-foot-10, 235-pound, 4-star prospect ranked No. 42 in the current class.

Although no official announcement has come from freshman Josh Jackson, Self continues to operate with the expectation that Jackson, a likely top-three pick in this summer's NBA Draft, will be turning pro.
"I'm not gonna hold my breath on that one," Self said Tuesday night.