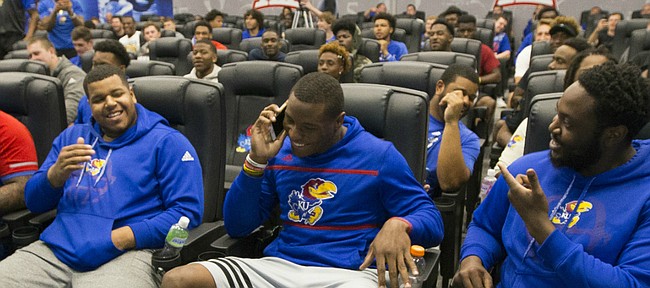 The texts just kept coming to Kenny Perry's phone on Tuesday night, all carrying the same general inquiry: "Who's it gonna be? Who's it gonna be?'"
Kansas football players would not leave Perry, the cornerbacks coach and co-defensive coordinator, alone, because every Jayhawk wanted to know who would be the first pick in the program's spring game draft.
They finally got their answer Wednesday afternoon, when running backs coach and associate head coach Tony Hull made junior receiver Steven Sims Jr. the No. 1 selection in KU's version of building rosters the schoolyard way.
The idea of implementing a 22-pick draft (which originated with defensive coordinator Clint Bowen) to decide who will wear blue and play for Perry's Team KU and who will wear white and represent Hull's Team Jayhawks fired up the players, who already looked forward to Saturday's 1 p.m. scrimmage at Memorial Stadium — the one shot they have before September to play in front of fans.
Photo Gallery
2017 KU football spring game draft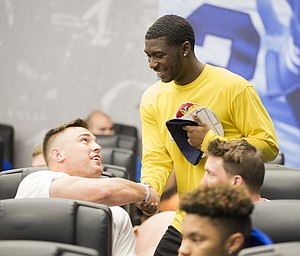 For their 2017 spring football game, Kansas coaches decided to split up the teams by having a player draft three days before the scrimmage.
"It's going to be a lot more competitive," Sims said of the spring game, following a mid-week player draft. "It's going to be real competitive, real fun."
Junior Dorance Armstrong Jr., the first pick for Perry's team and a returning All-Big 12 defensive end, agreed.
"That's something we haven't done, so I think everybody's kind of into it now," Armstrong said of the vibe at Anderson Family Football Complex, thanks to this year's wrinkle.
The draft had a few guidelines to help the coaches along:
• Only players listed in the current two-deep could be selected.
• Once a player at a position was selected, the other player on the two-deep for that spot automatically went to the other team.
• Kickers, punters and long snappers were not eligible.
• And one more thing. Quarterbacks were off the table, too.
In a move likely designed to keep anyone from jumping to conclusions about which quarterback may or may not be leading the competition to become KU's starter in 2017, redshirt sophomore Carter Stanley and junior transfer Peyton Bender were off the board before the festivities began.
Players in the auditorium hit head coach David Beaty, who doubled as a pseudo commissioner, with "oohs and ahhs" when he summoned Stanley and Bender to the front of the room before the No. 1 pick. Stanley prevailed in a game of rock, paper, scissors, so the returning starter got to pull a team name out of a cap to decide their fate. The paper in Stanley's hand read "Team KU," so he went to Perry's squad and Bender, the former Washington State QB, ended up with Hull's Team Jayhawks.
"I think it's pretty cool," Stanley said of the draft format. "A little twist to it, a little added something. I think the bottom line is we're still going to be going out there and playing football and doing what we've been practicing all spring."
SPRING GAME TOP 5 DRAFT PICKS
Team Jayhawks
No. 1. Steven Sims Jr., jr., WR
No. 2. Hakeem Adeniji, so., OL
No. 3. Hasan Defense, so., CB
No. 4. Ryan Schadler, jr., WR
No. 5. Derrick Neal, sr., DB
Team KU
No. 1. Dorance Armstrong Jr., jr., DE
No. 2. Daniel Wise, jr., DT
No. 3. Mike Lee, so., S
No. 4. Ben Johnson, sr., TE/HB
No. 5. Taylor Martin, jr., RB
(Picks 6-11 for both teams weren't publicized by KU.)