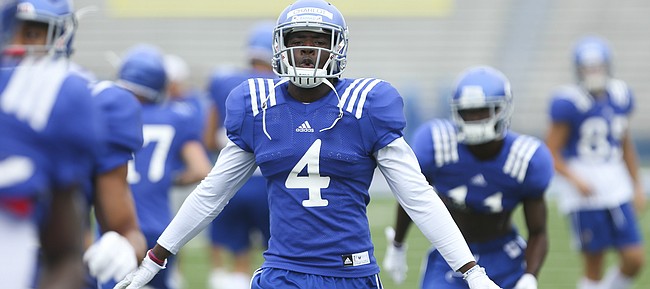 A la any talented wide receiver, Kansas sophomore Daylon Charlot is absolutely convinced that if the season started Saturday he would be good for two, maybe three touchdowns. Instead, it starts 21 Saturdays from Saturday and that's eating at him.
"I really can't wait to play Oklahoma and Texas," Charlot said. "That's who I'm looking forward to playing. I have family in Oklahoma. And Texas, I know Texas is going want to beat us bad because we beat them last year. And I'm ready for it, too."
He's been ready to catch passes since leaving Patterson High in Louisiana for Alabama, after saying no to offers from LSU, Notre Dame, Arizona, Arizona State and Mississippi State.
But even the fourth-ranked recruit, per Rivals, in the football-rich state of Louisiana and ninth-ranked receiver in the nation has to wait his turn at 'Bama, the nation's top college football program.
He caught two passes for nine yards as a true freshman, sat out last season in keeping with NCAA transfer rules, and can't wait to play in games that count.
He has exciting potential, based as much on what Crimson Tide coach Nick Saban said about him when he left.
"Daylon made really good progress here," Saban said. "I just wish he would have had a little more patience to hang in there. I think he would have been a great contributor here. I think he'll have a good career wherever he chooses to go."
Doug Meacham, who came to Kansas from TCU in the offseason, will be Charlot's third offensive coordinator and receivers coach in as many years. Meacham likes his potential, but as we all know potential can be a double-edged word.
"He's got a lot of physical skill," Meacham said of Charlot. "He's just raw."
So as much as Charlot wants the season to start now, if he can use the extra time to improve a little every day, he'll enjoy his return to action all the more.
"I have to polish my game," said Charlot, who is 6-feet, 190 pounds and armed with an extremely likable personality. "I have to get better at a lot of things."
Game-rusty, Charlot might not consistently show the source of all the fuss until midway through the season. The way Charlot sees it, by Nov. 18, when Mykel Jones comes to Lawrence with the Oklahoma Sooners, nobody will have trouble determining the most talented pass-catcher in the family.
Who's better?
"Me, me," Charlot said. "He'll probably say he's better, but he knows I'm better. It's going to always be that way."
Charlot will have a chance to prove that. . . . eventually.