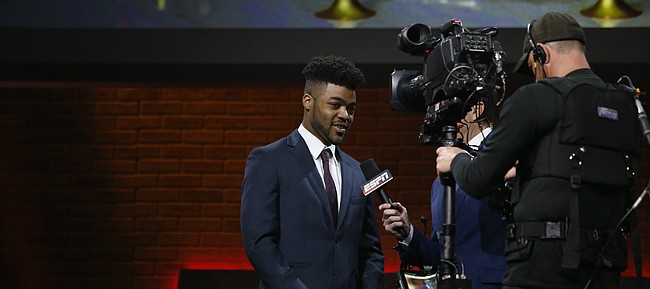 Kansas senior Frank Mason III on Friday night completed the national player of the year sweep in Los Angeles, hopping on stage one final time at the annual College Basketball Awards to collect the 2017 John R. Wooden Award.
Friday's ceremony, shown live on ESPN2, capped a whirlwind stretch of a few weeks in which Mason spent nearly as much time in a suit and tie as he did in basketball gear, a reality that was both enjoyable and disappointing for the Kansas point guard who admitted Friday night that he was still not fully over KU's season-ending loss to Oregon in the Elite Eight.
Mason, who in the past few weeks earned national player of the year honors from The Associated Press, the Naismith Trophy, the USBWA, the NABC, CBS Sports, NBC Sports, The Sporting News, USA Today and Bleacher Report, also won the Bob Cousy Award on Friday night, given annually to the nation's top point guard.
"Right now, these awards don't mean that much to me," Mason said in a phone interview with the Journal-World. "I know that sounds crazy, and maybe it's because I'm still stuck on the (Oregon) game and what we should've accomplished as a team, but I think, as I get older, like really old, I might look back on it and maybe brag on it then."
As humble as ever during his acceptance speech for the Wooden Award, Mason tipped his cap to his family, teammates and coaches for pushing him to be the best player he could be and, one last time, expressed his gratitude for fate intervening and sending him to Kansas instead of Towson, where he initially had committed before becoming ineligible.
"God had a plan for me," said Mason, who edged out UCLA's Lonzo Ball, Villanova's Josh Hart, Purdue's Caleb Swanigan and Gonzaga's Nigel Williams-Goss for the Wooden Award. "I'm just thankful to win this award and will continue to work hard and believe in myself and work hard off the court, too."
As for what winning the Wooden Award, founded by the Los Angeles Athletic Club and named for the man many believe is the greatest coach to ever grace the game, meant to him, Mason was not shy about sharing his thoughts.
"Nothing would've (meant) more to me than the national championship," he said. "But I really appreciate this."
With that, ESPN's Rece Davis, who co-hosted Friday's College Basketball Awards show from downtown Los Angeles, looked out to KU coach Bill Self, who sat smiling and clapping in the crowd, and said, "That's why your guy, Coach Self, is out there grinning because you are a flat warrior, no doubt about that."
Added Mason of Self, who attended most but not all of Mason's award ceremonies: "It was great to have him here. He's taught me a lot over these last four years and it was great to see him in the stands supporting me. It's been a long day, but I'm just happy that I won this award and it means a lot to me."
Mason was honored alongside Washington's Kelsey Plum, who was this year's female John R. Wooden Award winner.
He became just the second Jayhawk to win the national award, joining Danny Manning, who won the honor in 1988.
With awards season now behind him, Mason can devote himself fully to preparation for this summer's NBA Draft and his chance at playing professional basketball.
While that will involve hours and hours of workouts, film study, interviews with NBA teams and conversations with his agent, Mason sounded ready.
"I'm just excited to get back and get started with this process," he said.
As for what the next couple of months will include, Mason said he did not yet know the exact details of where he would do the majority of his workouts and added that he was still in the process of finalizing the business side of his journey to the NBA.
"Figuring that out now, he said. "But I'm excited to start working out, taking care of my body and getting my physical strength right and all of that. I'm just excited."
A couple of key dates that loom for Mason are the NBA Combine in Chicago (May 9-14) and, of course the NBA Draft set for June 22 in New York City.
Although he spent most of his career on the outside looking in when it comes to NBA Draft talk and the various mock drafts that track the possibilities, Mason has been listed as a late second-round pick during recent updates of the 2017 mock draft at DraftExpress.com.