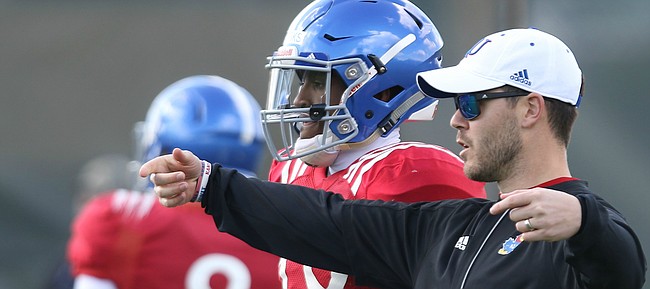 In his first year working for the Kansas football program as a behind-the-scenes offensive analyst, Garrett Riley didn't have to dig too deep into the numbers to see one of the glaring issues wrecking the offense's production.
By the time the 2016 season concluded, and just a few weeks before Riley received a promotion to become the quarterbacks coach, the Jayhawks had thrown 22 interceptions — a total that ranked KU 126th out of 128 FBS teams.
Now that overseeing the QBs is his responsibility, Riley wants to make sure his throwers aren't costing Kansas possessions in 2017. While Riley will critique their reads and technical approaches, as well, he has a broader plan he hopes will curtail all of KU's quarterbacking woes.
"But my job, number one," Riley said earlier this week, "is we've just got to get these guys confident. I think that will take care of a lot of the other stuff that we need to address."
Two quarterbacks responsible for a combined 16 of the team's interceptions this past season, Montell Cozart and Ryan Willis, have since left the program. Now a redshirt sophomore, Carter Stanley threw the other six — four in three games as a starter.
Various factors contributed to the turnovers, but Riley thinks taking on the position with some uncertainty likely played a part in the collective throwing struggles, as KU had trouble identifying a true starter.
"It's hard to gain a lot of confidence," Riley said, "when you play three quarterbacks, essentially."
Now coaching Stanley, one-time Washington State QB Peyton Bender and redshirt freshman Tyriek Starks, as well as junior Keaton Perry, Riley wants the players to exit this spring as a self-assured group.
"If we're just confident," Riley predicted, "we're going to make huge strides."
The assistant's boss, third-year KU head coach David Beaty, pictures the quarterbacks growing not only with repetitions in the Air Raid at practices, but also because new offensive coordinator Doug Meacham carries himself with boldness, giving the men playing behind center the latitude to be "not cocky," but sure of themselves and their abilities.
"If you can't be confident, you're gonna have a hard time playin' here right now," Beaty said, "'cause it's gonna be demanded of ya."
Clearly, confidence has become a buzzword around Anderson Family Football Complex this spring. Riley said now that Stanley and Bender, the two men competing for the starting job, are diving into the offense and proving they can make various throws, their mettle as play-makers will continue to grow as they try and perfect the offense and get "a little better" at each session.
Riley said a quarterback has to have an all-encompassing confidence about him, whether that has to do with running a team, completing difficult passes or simply proving he belongs.
"Just always believing in your abilities and that you're the guy and if you're out there, then there's not a better person on the field than you," Riley said of the ideal mindset. "You've always got to have that expectation — that'll never change as long as I'm here and I know with (Meacham), as well. That's the type of mentality you have to have running the show, especially with the type of offense that we have. You've got to have that."