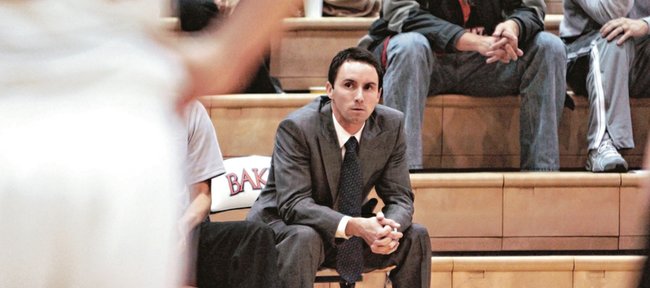 Former Kansas basketball player and assistant coach Brett Ballard is coming home.
After leaving Kansas following the 2009-10 season to take over as the head coach at Baker University, Ballard spent five seasons working on Danny Manning's staffs at Tulsa and Wake Forest.
With both him and his wife hailing from the state of Kansas, Ballard, 37, has eyed opportunities to get closer to home during recent years and the chance to take over the Washburn program and replace 800-win and longtime coaching veteran Bob Chipman at WU was too great to pass up.
"This is an incredible opportunity and I am excited to come home and coach at a university with an elite basketball program," said Ballard, a native of Hutchinson. "Washburn is a place that has very high standards and also places a value on developing student athletes both on and off the court, and those were very important factors to me coming. We have the leadership, facilities and support we need to be successful. My goal will be to build on the great tradition that has been established here and help my players compete at the highest level on the court, but more importantly help prepare them to win at the game of life."
At each of his stops since leaving Kansas, Ballard played a huge role in delivering success. At Baker, he led the Wildcats to their first NAIA national tournament berth in 16 seasons, and, while working as one of Manning's key assistants at both Tulsa and Wake Forest helped guide the Golden Hurricane (2014) and Demon Decons (2017) to NCAA Tournament appearances in his final season at both schools.
Ballard becomes the first new head coach to take over the Washburn basketball program since Chipman started in 1979-80 and he, his family and his former bosses are overjoyed about his new adventure.
"I am very excited for Brett and his family and I think this is a perfect fit," Manning said in a press release. "The Washburn University community is getting a home run of a person and a coach. I have known Brett for a very long time. We started out together on Coach Self's staff, sharing a cabinet, and we have come a long way. Having him on the staff at Tulsa and here at Wake Forest has been invaluable because of the knowledge he had of being a head coach. That journey has led us to today where he has a great opportunity to be the next coach at Washburn. We are going to miss him, Kelly and their children, but we are happy for them and look forward to following his teams."
Added Self: "I'm so excited for Brett and Kelly and their family getting to return to Kansas. Washburn is a terrific job and few people could follow coach (Bob) Chipman and be comfortable with it. He's a great recruiter, coach and administrator and Washburn could not have hired a more complete person to be its next basketball coach."
Ballard, who was 33-30 in two seasons as the head coach at Baker, becomes the 15th head coach in Washburn history and will be formally introduced at a press conference Monday.