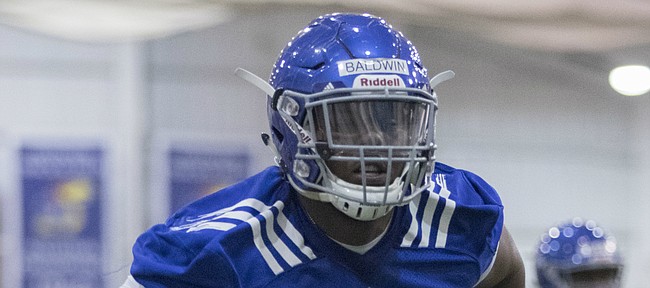 As if Dorance Armstrong Jr.'s presence in the Kansas football program hadn't already paid enough dividends for head coach David Beaty and his staff, it turns out the monstrous defensive end deserves some credit for helping out the offense, too.
The way former Alabama offensive lineman Charles Baldwin tells it, Armstrong facilitated his path to KU.
In search of a new football team to join, Baldwin, a 6-foot-5, 305-pound right tackle, reached out to Armstrong via Instagram because he had heard good things about the Jayhawks' offensive line coach, Zach Yenser.
Armstrong put the two in contact with each other, and from there, Yenser wowed Baldwin in their conversations.
The five-star junior college lineman who was dismissed by Nick Saban at Alabama decided to move to Lawrence to reboot his college career.
"He's by far the most intelligent coach I've spoke to, from any other coaches," Baldwin said Wednesday in his first media interview since joining Kansas this past August. "So I felt like I had to come play for him."
A year ago at this time, Baldwin was trying to win the starting right tackle job for a national powerhouse. His time with the the Crimson Tide only lasted one spring, though, and unlike teammate Daylon Charlot, he didn't leave the national-title contending program on his own terms. Saban dismissed the transfer from ASA College (N.Y.) in May 2016 for "a violation of team rules." Baldwin's short-lived stay in Tuscaloosa, Ala., didn't go as the Windsor, Conn., native originally envisioned, but he said he learned a lot about discipline, work ethic and football over the course of his few months there.
Why didn't it work out for Baldwin at Alabama?
Without getting into the specifics of his dismissal, the big lineman paused for five beats before answering: "I guess you could just say I was young and immature. And I believe everything happens for a reason. I'm happy I'm a Jayhawk. I'm happy to be here."
Of course, Yenser is delighted to have a pupil with Baldwin's size and talents as well. KU's O-line coach said Baldwin had "to do some growing up" upon arriving at Kansas ahead of the 2016 season and sitting out as a transfer. Still, Yenser praised the tackle — the nation's No. 2 junior college player in 2015, according to Rivals — for falling in line since he got to town.
As a coach, Yenser is infatuated by Baldwin's athletic ability, but also knows his junior tackle is far from a finished product.
"His biggest thing we're working on right now is his technique," Yenser said. "He is talented. He is strong. He gets away with a lot because he's so big and so strong and he has great feet. Now if we can start combining that with great technique, he's going to be a really, really good one."
Through seven spring practices, Baldwin has played at 12 to 15 pounds lighter than when he first stepped foot on KU's campus, and has shown off his skill at right tackle, the position he has played his "whole life." Baldwin has taken plenty of first-string reps over the past few weeks, with left tackle Hakeem Adeniji, left guard Jayson Rhodes, center Mesa Ribordy and right guard Larry Hughes.
One of the men the offensive line has to protect, redshirt sophomore quarterback Carter Stanley, already has seen promise out of Baldwin, the skilled right tackle.
"He's a big dude, no doubt. Definitely a hard worker, too," Stanley said. "He's got his hands full with blocking Dorance Armstrong almost every play, which is great work for both of them. That's just an incredible matchup within itself. But I've definitely liked what I've seen from him and excited to see him improve."
Yenser expects to see further advancement from Baldwin in time and with increased experience — the tackle hasn't played in a live game since 2015.

"But what does help him is that he is so athletic," Yenser reiterated. "He is strong and he's doing a phenomenal job of getting down the scheme."