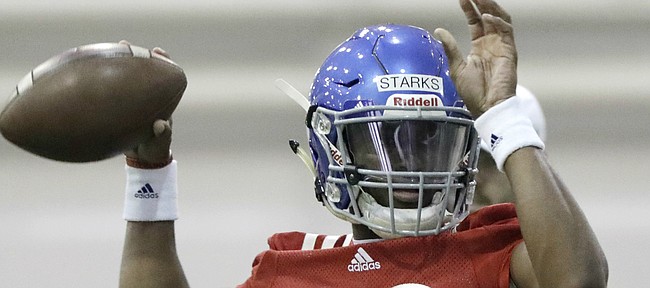 On David Beaty's long checklist of things to accomplish this spring, finding Kansas football's starting quarterback for 2017 ranks at the top.
So KU's head coach told the man playing behind the top two candidates, No. 3 QB Tyriek Starks, it would be in his best interest to not let a single snap go to waste.
Months ago, Beaty made it clear redshirt sophomore Carter Stanley and junior transfer Peyton Bender would compete to become the Jayhawks' top quarterback for the coming season. Starks, a redshirt freshman from New Orleans, knew what he was getting into, but his head coach wanted to be honest about just how many looks his youngest QB would have a chance to experience within the offense.
"I made it a point to make sure he understood that if you come out there and you're not in the right place with your eyes and your feet aren't clean and you don't know what you're doing, then we're just not going to give you any reps," Beaty related of his message to Starks, whose next in-game appearance for the Jayhawks will be his first.
KU's third-year head coach liked the way Starks responded to that challenge. The 6-foot-1 QB looked good with the ball in his hands and made accurate throws, despite the knowledge his involvement would be limited at practices compared to Stanley and Bender.
"And he took that to heart," Beaty added of Starks, "and he did a really nice job. He's a talented dude."
A high school player at Warren Easton before joining his prep head coach and Jayhawks running backs coach Tony Hull at KU, Starks' days of college football are just beginning.
"But those other two guys are very capable," Beaty said, referring to Stanley and Bender at the top of the depth chart, "and you can tell they've played a lot of football."
'Rollercoaster' QB competition
Beaty, offensive coordinator Doug Meacham and quarterbacks coach Garret Riley would like to have a starting QB in place by the time spring football ends later this month, but KU's head coach doesn't know whether it will necessarily play out that way.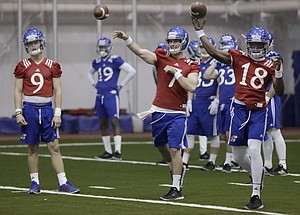 In fact, while meeting with the media following the team's fourth of 15 practices this past week, Beaty described the competition as "a little bit of a rollercoaster."
For example, when Kansas practiced in pads for the first time, the coach saw Stanley, the starter in the final three games of 2016, have a "really nice day." Meanwhile, Beaty didn't think Bender, the one-time Washington State QB, played as well at that particular session.
Then, when the players returned from spring break 12 days later, Beaty witnessed a much better performance from Bender.
"You could tell that he worked on his game over the break, which was good," KU's coach said, adding Stanley had a solid day, too, but not quite to the level he had shown previously.
More like this story on KUsports.com