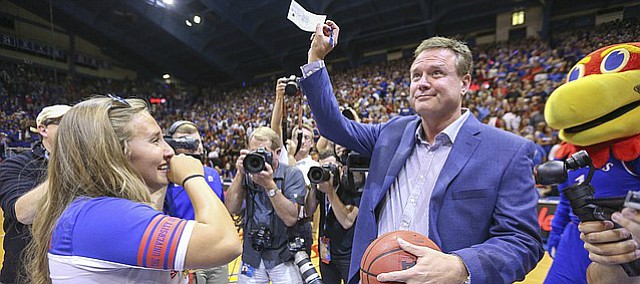 Now that it's official and Bill Self is a Hall of Famer, joining the previous two Kansas basketball coaches, it's time to glimpse deep into the future to imagine two of the most pressure-packed jobs in all of sports: Kansas athletic director and next Kansas basketball coach.
The heat on the person with the first job approaches blow-your-mind levels, based on the potential for failure of the coach who succeeds Self. If that coach doesn't perform at a Hall of Fame level, he's a failure based on the standard set by Larry Brown and perpetuated by Roy Williams and Self.
Self's successor is not likely to be named for another several years because why would Self leave a job at which he is able to win 13 consecutive conference titles and reach the Elite Eight in 50 percent of his seasons, the Final Four twice and win one national title so far?
No school ever has had back-to-back-to-back Hall of Fame coaching hires, so the odds of extending that streak to four aren't great, which likely will make the person in charge of the next hire unwilling to take a chance, eager to go the safe route.
That's generally not the way to land somebody exceptional.
Larry Brown wasn't a safe choice when Monte Johnson selected him to succeed Ted Owens. Davidson hired Brown from the North Carolina staff as head coach in 1969 and he didn't last the summer before his first season, leaving to become an assistant in the ABA. That set in motion a series of dominoes that left Brown with a reputation as a coaching gypsy.
Sure, Brown proved his skill as a college coach by leading a young UCLA squad to a title game, but he was gone after two years, leaving NCAA violations in his wake. Safe choice, no. Brilliant one, yes. Brown won a national title in his fifth season, again ran afoul of NCAA rules and returned to the pros. Nothing less than a great hire by Monte Johnson.
Then Johnson's successor, Bob Frederick, made another bold hire based on the recommendation of Dean Smith, handing the job to a North Carolina assistant coach who was all of 37. Williams took Kansas to four Final Four appearances in 15 seasons. Remarkable hire.
Interim athletic director Drue Jennings was smart enough not to overthink it when Roy Williams returned to North Carolina, his alma mater. Self had pursued the job at the Final Four in New Orleans and was a no-brainer of a choice, but plenty of athletic directors bypass no-brainers in favor of less obvious choices who flop miserably, so give Jennings credit.
Self seems as if he'll stay a long while and push off trying the NBA until he's a handful of years from retiring. By that time, his success will make the Kansas job even more appealing than it is now.
But that doesn't mean his successor necessarily will keep the train moving at such a high speed.
Kentucky has all the same advantages as Kansas, yet Eddie Sutton, hugely successful at every other stop of his career, had a rough four years marred by scandal in Lexington. Self protege Billy Gillispie was a can't-miss choice who made a mess of things and was gone after just two seasons.
North Carolina, UCLA and Indiana haven't batted a thousand either, although Louisville has.
Since 1971, the Cardinals have been led by a coach who has a plaque in the Hall of Fame since 1971. Denny Crum led the program for 30 seasons and Rick Pitino just completed his 16th season in Louisville.
Pitino was a safe choice who worked out extremely well, but he's the exception.
Envisioning life after Self is scary enough that it might be time to look into extending his contract, which has five years remaining on it.