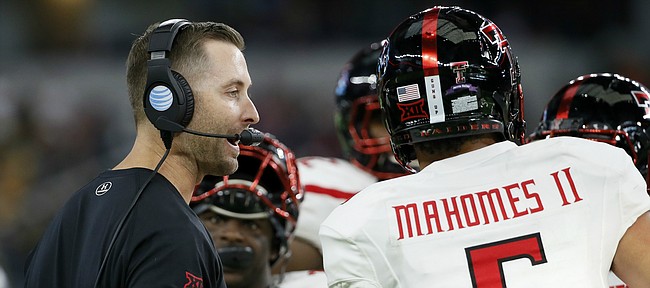 Kliff Kingsbury carefully reviewed the video from his next opponent's most recent outing and Texas Tech's head football coach said he came away unconvinced Kansas actually is as bad as the score indicated in the Jayhawks' 36-point loss at Memphis a week and a half ago.
Whether Kingsbury made that claim because he believes it, due to his time working with KU coach David Beaty when they were assistants at Texas A & M, or just in order to avoid giving an opponent extra fuel in the form of inflammatory quotes, the fifth-year Red Raiders coach found himself willing to give KU's previous defeat an asterisk, pointing to the Jayhawks' six turnovers.
"I think the last game was, the last game was not a true statement of who they are as a football team," Kingsbury offered on 1-2 Kansas at his Monday press conference. "… It kind of got out of hand. But Coach Beaty, I know him very well, he does a good job motivating. I thought last year they were more excited to play than us, so they'll be excited for this game."
Referencing a 30-20 Tech victory in Lawrence in 2015, Kingsbury indicated the Red Raiders' win, which came down to the final minutes of the fourth quarter, had been discussed leading up to Thursday night's game in Lubbock, Texas (7:30 kickoff, FOX Sports 1). What's more, Kingsbury said Tech's returning players take that showing personally, adding his team played "un-energetic" and poorly on offense.
"The defense played great," the coach said of a game Texas Tech led 20-0 at halftime. "Offensively, it was a joke. So we have been working hard to try and correct that this year."
Kingsbury didn't forget to give KU's defense credit for the unexpected test, either. Jayhawks safety Fish Smithson led the team with 10 total tackles and added one tackle for loss, a fumble recovery and an interception. Kingsbury said the Kansas defense "wanted it more" in the last meeting between the programs.
"They got after us physically, schematically," he said. "Coach (Clint) Bowen had a great plan, and so we got outplayed and out-coached. So we have been taking this personal, and I think the players are ready to get out there and see what we can do."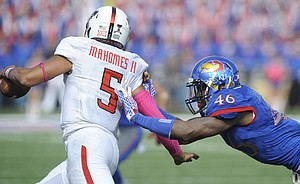 Texas Tech junior quarterback Patrick Mahomes II, who threw for 354 yards, one touchdown and one interception at Kansas last season, agreed the players should recall what they considered an unimpressive outing against the Jayhawks. But Mahomes wasn't ready to say the Red Raiders played down to KU's level in Lawrence.
"Not necessarily. It was really just them bringing it," Mahomes told reporters in Lubbock on Monday. "They really wanted to beat us. They really wanted to win that game. They brought it that day. They will bring the same attitude coming in. They're going to be expecting to win. They're going to come in here expecting to beat us, and that's something where we really just got to play our best game every single week."
Returning to the subject of KU's numerous turnovers — nine combined in losses to Ohio and Memphis — Kingsbury would like Texas Tech to take advantage of some miscues, too. The Red Raiders' defense finished last season with 25 takeaways. So far this season, Tech (2-1) has just three — two interceptions and a fumble recovery.
"We haven't got any in the last two games, so we definitely need to try and create some," Kingsbury said. "But more than anything I talked to our team about (KU getting outscored by a combined 52 points in back-to-back losses), that's because of those turnovers. Don't look at these scores or look at the wins and losses, because if you turn the ball over that many times, you're not going to win the game. So I don't think it's a true indication of who they are. But, yeah, we would like to get our turnovers since we haven't had any in a couple games."